Oggie celebrates marathon achievement by donating £1,000 to Action Mental Health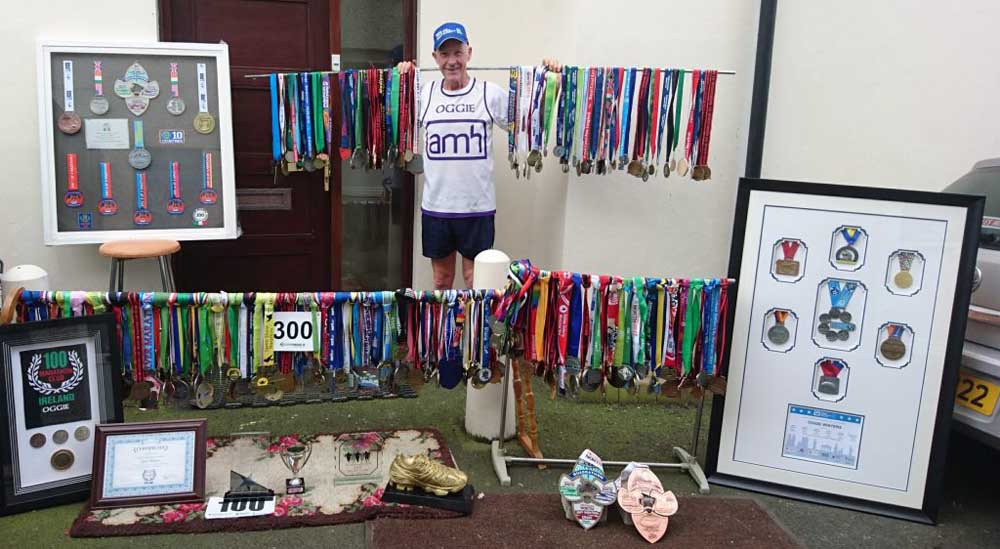 On his fifty-fifth birthday in 2012, Eugene Winters set himself a challenge, a marathon challenge. He decided to complete the daunting task of running 300 official marathons in 300 weeks.
Oggie, as he's known to his friends, hails from Portstewart and has always been active but had never attempted running 26.2 miles before. So, aged 55 he sailed through his first marathon in Belfast. Almost 300 weeks later, countless pairs of running shoes and many miles tread, he has reached his goal of 300 marathons. In fact, it only took him 270 weeks to achieve!
Some of Oggie's highlights include running 85 marathons in 2014, 61 in 2015 and a massive 95 in 2016. The remarkable runner has completed all the 'Marathon Majors' – the London, Boston, New York, Chicago, Berlin and Tokyo marathons. He twice ran 10 marathons in 10 days and also took part in the Hell of the Hill Endurance event which involves running five of the toughest marathons in the UK, in five days. He's also been a regular 'back to back', 'treble' and 'quad' runner, meaning running marathons two, three & four days in a row. In 2016 he successfully ran the Victoria Park endurance event in Belfast, running 100 miles in 24 hours.
Eugene is a member of several elite marathon clubs around the world including the Marathon Globetrotters, Marathon Club Ireland, the 100 Marathon Club, UK and the Super Marathon Club, Italy. His best time was the recent Newry marathon which he finished in an impressive 3 hours 37 minutes, enabling him to qualify for next year's London Marathon in the 'Good for Age' Category.
Describing his achievement Oggie said, "It was very tough going at times, and I struggled to complete some of the marathons. I ran through injury at a few events and I had to rely on my own mental strength and toughness to get me through.
"I hope that my efforts will maybe inspire other people to go out and do something active. I firmly believe exercising and keeping active can help not just our physical health but our mental health too. I started out at 15 ½ stone and I'm now down to 11 ½ stone, feeling much better both physically and mentally.
"When I had completed the 300 marathons in 270 weeks, beating my own challenge of 300 weeks I thought what better way to celebrate than to donate some money to Action Mental Health, to help support the vital work they do across Northern Ireland."
Jonathan Smyth, Fundraising & Communications Manager, Action Mental Health said, "Oggie got in touch with us to pass on his really generous donation and I was completely staggered at what I heard! Everyone in the office was in awe of his achievement. What he has accomplished is truly amazing.
"We all know that taking part in some form of physical activity is good for our bodies, but at Action Mental Health we also highlight the advantages it can have on our mental and emotional well-being too. Oggie's strength of character and tenacity is a real inspiration to us all and we are very grateful that he chose to donate to Action Mental Health."