Patricia felt like an empty shell but thanks to New Horizons she is soaring high helping others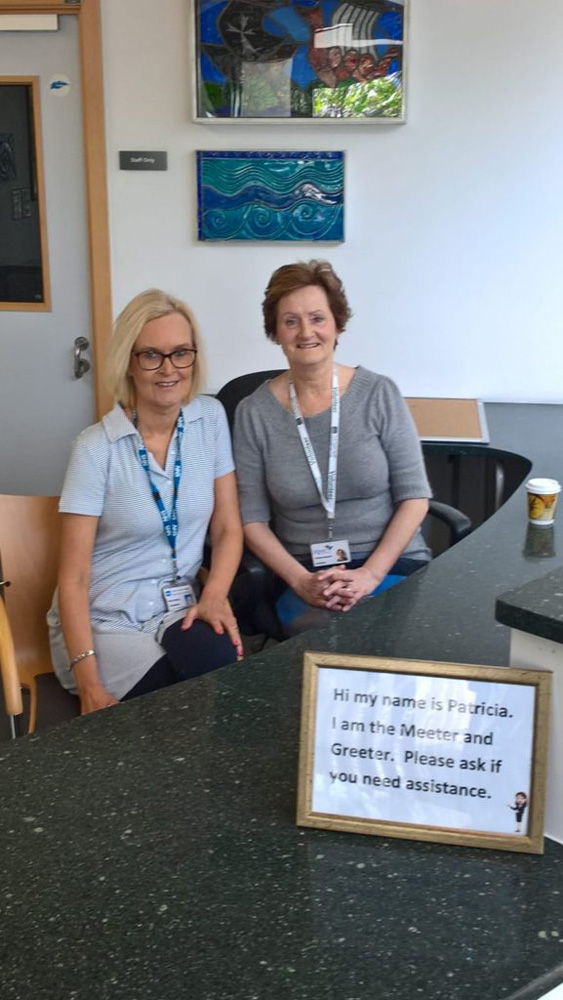 My name is Patricia and I am fifty eight years old. I am married with three grown up sons whom I adore and have such a rewarding relationships with all three. I first realised I had depression just after the birth of my first son. It took on a life of its own and I ended up unable to cope. I can best describe myself as being a nutshell – only when you open it there is nothing inside. The shell appears fine, as I kept my appearance well, through makeup and hair to perfection. But this was a mask which prevented people asking questions. Eventually, through time, my shell eventually cracked and I fell completely apart.
My depression at that time can best be described as an ocean and it behaved in the very same way: it can be serene and ebbing calm but sadly it can also be very turbulent crashing against life. I was in hospital a few times, including the day hospital. Approximately three years ago I was advised to join AMH to help me with my confidence and social skills. I was very reluctant, but I did, and I must confess I had no inkling as to the gravity that AMH could help to bring me, in terms of commitment, calmness and confidence, as well as belief in myself and in life.
I have completed many courses through AMH. The two most inspiring courses for me were Drama and NVQ Health & Social Care. My tutors were so patient, inspiring and believed in me, no matter what I said or did. They listened and offered help wherever possible and always had my back. They encouraged me throughout and offered all the guidance necessary to complete the course.  One of the good things was if I was having a bad day they always made time to listen.
You become the centre of AMH and they will focus on that – nothing else. If anyone should ask which course is best, my advice is try something you know you wouldn't normally do. I did that with Drama and can honestly say it was so involving, funny, thought-provoking and rewarding. I could easily fill this entire page with the positives of the course and I always dreaded the class ending.  But as for advice? Try as many courses as you can get. It may seem too much at times but you will find you can manage it. And the friendships that form between the various classes are sincere and worth investing in.
I am proud to say, having gained my confidence, I am now volunteering with the South Eastern Health and Social Care Trust as a meeter/greeter based in Downe Hospital.  I go there every week and enjoy knowing that I am helping others as well as building on my own personal skills.
I totally enjoyed my time at AMH – in fact I would return in a blink. I gained a confidence that I am still finding out about.  My advice: do only what you can.  In time, you will see how doing other courses alongside is always beneficial to your personal development needs.
If I was able to dedicate awards I would give each and everyone in AMH an award for helping, guiding, encouraging and believing in me when I needed it most.  I want to say a big thank you to every member of staff.
Patricia took part in the Working it Out Project which is part-funded by the Northern Ireland European Social Fund Programme 2014-2020 and the Department for the Economy.

Patricia