Peace project launches wellbeing app for kids
OUR Generation, celebrated the launch of its brand new app as part of Mental Health Awareness Week.
David Babington, CEO of Action Mental Health, addressing teachers and pupils at Dromintee Promary School.
The event took place at Dromintee Primary School on Monday 15th May, with one lucky P.7 class given the chance to try it out for themselves.
OUR Generation is an EU PEACE IV-funded project led by Action Mental Health, which has been match funded by The Executive Office and Government of Ireland. The project aims to build positive relations and emotional resilience in children and young people.
Ulster University is one of a number of partners involved in the project, and the OUR Generation app was developed in collaboration with researchers at the University's School of Psychology along with Prof. Maurice Mulvenna of the AI Research Centre in the University's School of Computing.
The app aims to educate children & young people about mental health and wellbeing. It is designed as a game, featuring 5 levels with activities relating to mental health and well-being, coping and problem-solving skills, perspective taking, empathy and intergroup contact & trust.
OUR Generation partners fed into the content, with the view to 'gamify' aspects of programmes currently being delivered by them.
Children and young people were also involved in workshops across Northern Ireland and the border area to help app co-design the app.
The app is divided into two age categories, 11 years old and under, and 12 years old and above. Activities include simple drag-and-drop games as well as videos and links to other sources of help and support.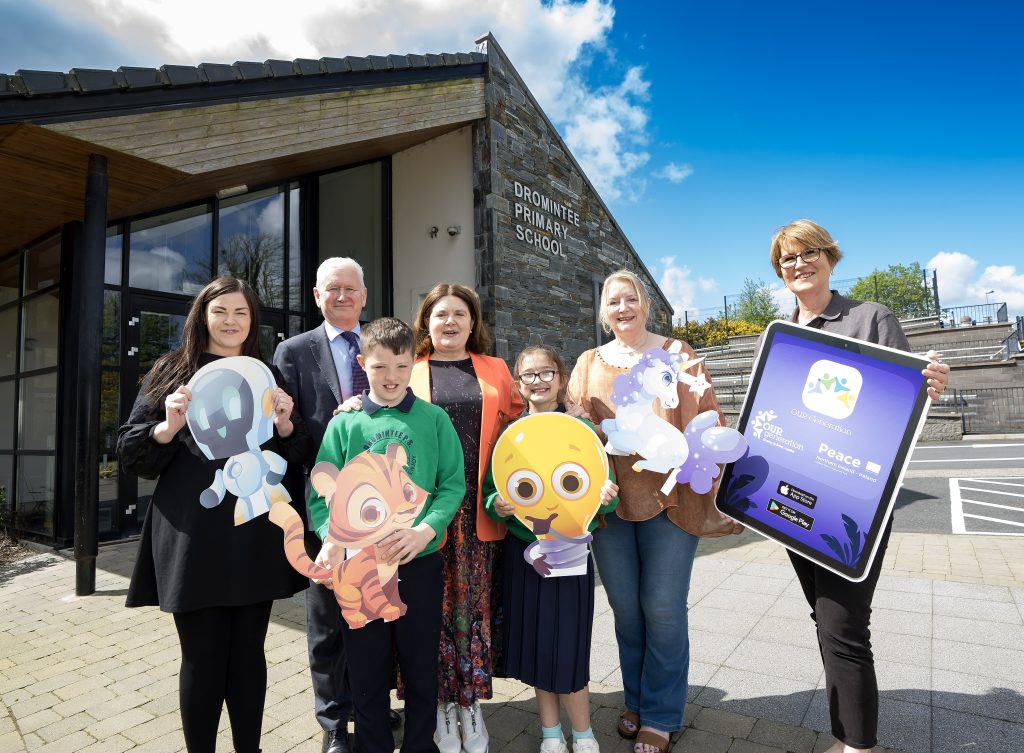 Players can select from four buddies who guide them through the app – Stripey, Roby, Hoofy or Bulby. Users earn stars as they complete their journey through the levels and climb the leader board from expert, ambassador, champion to genius.
Prof. Maurice Mulvenna, who was involved in the app's design and development, said:
"The OUR Generation App will provide a fun, free, safe, and engaging way for children, young people, and emerging adults to tackle their worries on mental health and well-being, so they can build resilience, gain confidence, and thrive."
He added: "The OUR Generation App aims to demonstrate an improvement in the emotional resilience of children and young people. The anonymous usage data collected will help us answer the question of whether using the App can improve the knowledge, skills and behaviours of users and improve users' resilience.
David Babington, CEO of Action Mental Health, speaking at the launch event, said:
"We're delighted to be launching the OUR Generation app at Dromintee Primary school. It was important to us that children and young people were involved in the co-design of this app, and pupils from Dromintee were involved in our initial research workshops that helped us get a sense of what types of apps they like to play, and the kind of content they enjoy."
He added: "We hope the OUR Generation app will be used as a digital learning tool by children, young people and their key contacts to help develop awareness around resilience, mental health and wellbeing. For many years, Action Mental Health has been working to give children and young people the skills they need to look after their mental health through traditional programmes, so I am delighted to see this support develop digitally also."
The OUR Generation app is free and can be downloaded from the Google Play Store and the Apple Store.
The objective of the OUR Generation project is 'Growing Up Better, Together'. It is currently being delivered on both sides of the border in education, youth and community settings across the Five Urban Village Areas of Northern Ireland, the Border Region of Ireland and Northern Ireland. Its aim is to build positive relations and emotional resilience in communities impacted by four decades of the Troubles, to help tackle the legacy of the conflict across the island of Ireland.
Seven organisations have partnered with lead partner Action Mental Health, including Donegal Youth Service, Co-Operation Ireland, Youth Action NI, YouthWork Ireland, PlayBoard NI and Ulster University.
Together, the organisations have utilised EU PEACE IV funding to support communities to tackle post-conflict peace building and mental health. The project will run until September 2023. The Executive Office in Northern Ireland, and the Government of Ireland have provided match funding for the project.
OUR Generation will reach over 36,000 children and young people who will engage in programme design and delivery, including provision of peer support, developing skills and confidence to improve well-being within their communities. They will also act as agents of change, building peace for future generations.
How to Download
Here is a magic link (depending on which device you access the page from, it will take you to the correct App Store): https://ourgeneration.fluxguide.com/fluxguide/appstore
The direct App Store links would be:
Here is a magic link (depending on which device you access the page from, it will take you to the correct App Store): https://ourgeneration.fluxguide.com/fluxguide/appstore
The direct App Store links would be
– Google Play Store: https://play.google.com/store/apps/details?id=com.fluxguide.ourgeneration
– Apple App Store: https://apps.apple.com/us/app/our-generation/id6444150482