Quality Assurance Officer clinches ICE award for high calibre service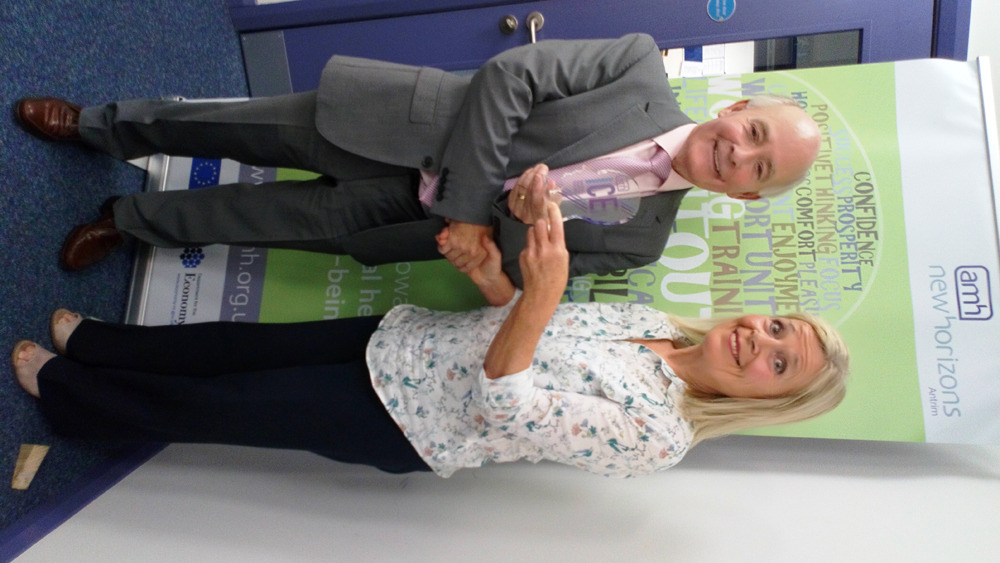 One of the people tasked to ensure Action Mental Health's varied training programmes are delivered to the highest standards has been rewarded for her efforts.
Anne Broughton, AMH Quality Assurance Officer, has received the coveted Chairman's ICE Award – just the fourth recipient of the award launched in 2016.
Anne, who is based at AMH Antrim Regional office, introduced a Framework Assessment to help clients get the utmost of their various training assessments.
The Chairman's ICE award recognises individuals' contribution to Innovation, Creativity and Excellence within the organisation and are presented twice a year to celebrate individual achievement. Recipients are presented with an ICE award and also win an extra day's leave.
The awards were conceived in recognition that AMH's people are "the organisation's most important resource in achieving its mission and advancing its vision", according to chairman Peter Fitzsimmons.
"The commitment, enthusiasm and skills of staff are vital to the success of AMH and to the quality of the service experienced by clients and customers. As such, AMH is committed to recognising and rewarding the achievements of its staff, " he said.
Action Mental Health Chief Executive David Babington congratulated Anne on her achievement.
"Anne has a very distinct role as the Quality Assurance Officer and she ensures the quality of AMH training achieves appropriate standards. Many Skills Coaches will be aware of her in services undertaking assessment observations to support delivery which has ultimately raised the clients' experience. The new Framework Assessment she introduced has been very well received and contributed to the recent positive ETI inspection outcome, as well as OCN and BCS audits.
"She has shown Innovation, Creativity and Excellence and really enhanced the client experience in AMH.
"I wish her well for her one day's leave. There were a number of really strong submissions and the Chairman would like to thank all those who took the time to submit an application."