Queen's Inclusive Employment Scheme 2019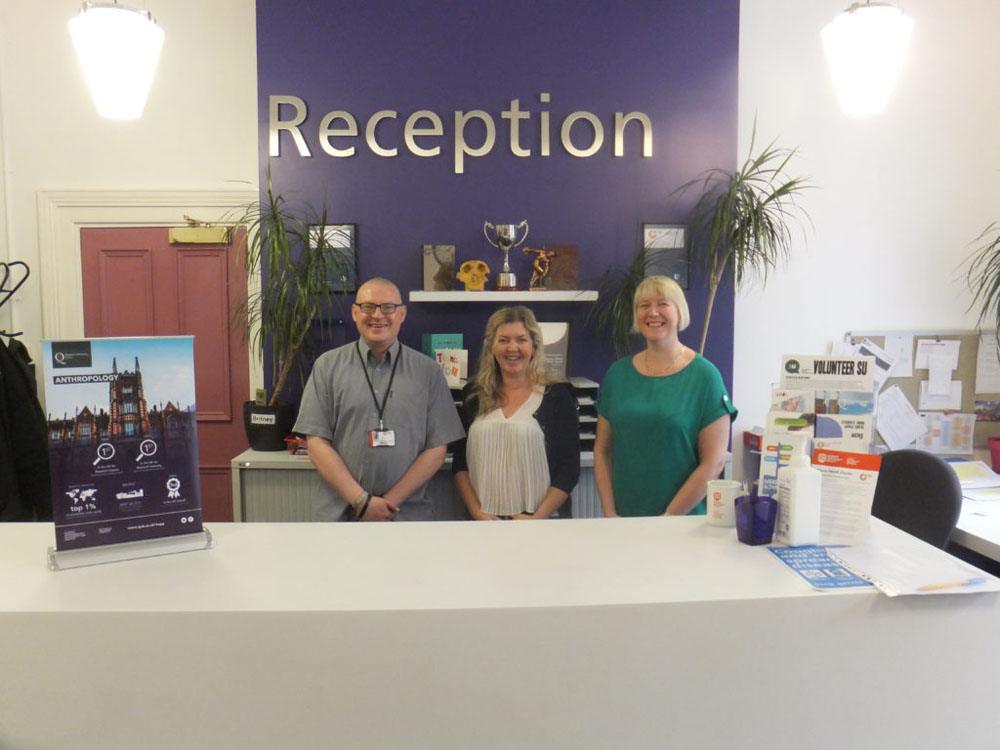 Peter McCullough is one of our  ESF "Working it Out" clients at AMH New Horizons Antrim studying for a NVQ in Business Administration and has been working at Queen's.
Peter tells us how he's getting on.
"As part of my NVQ I was required to undertake a work placement to gain actual hands on experience, to supplement what I have learned in the classroom.  When I heard that Queen's University Belfast had vacancies through their Inclusive Employment Scheme, I was keen to apply.

Queen's has an excellent reputation as an educator/employer and I was sure to gain invaluable experience there. I knew there would be opportunities to learn, improve and enhance my future employability.

I consider myself exceedingly fortunate to have been offered a placement.

My role is to assist with the administration of the main office for the School of History, Anthropology, Philosophy and Politics.

My duties include, filing, printing, copying and scanning documents, printer/copier/scanner maintenance, creating Word documents and Spreadsheets, answering the telephone, meeting the needs of visitors, sorting and delivering post and setting up/encrypting PCs/laptops.

My colleagues have been welcoming and friendly from the outset and I feel appreciated and valued. I am awarded many opportunities to develop and learn new skills.  My goal is to return to and be able to sustain employment.  In addition to learning new skills, my confidence is improving and I feel ready to return to the job market.

My time at Queen's will undoubtedly improve my employability and I hope to leave with a good reference".
Lesley Whyte,  School of History, Anthropology, Philosophy and Politics said,
"Peter has been working with us in the main School reception for a couple of months now. Since we met him at interview, it was apparent that Peter had good interpersonal skills that are essential in this front-facing role.  Peter has been extremely adaptable, and eager to keep busy when he is with us, hence, a wonderful asset to our team.  He has taken ownership of some routine tasks, like distributing mail, updating student noticeboards, and looking after photocopiers, all of which contributes to the smooth running of this busy office.  Alongside these daily jobs, Peter has also taken on some projects like updating address lists on Excel and producing name badges for conferences on Word.

We are consistently impressed by Peter's exemplary time-keeping and enthusiasm, and in return for his commitment to this role, we try to ensure that we give Peter a variety of tasks, including those which will help him advance his skill set in order to build on his experience and enhance his future employability.  Peter continues to grow in confidence.  He brings a wonderful sense of humour to work every day and is always polite to colleagues and students alike.  Peter has proved to be a great team member and his positive attitude is going to make him a great asset to any employer".
Well done Peter, we wish you well! Thanks for sharing your story!
Peter is taking part in Working It Out which is part-funded through the Northern Ireland European Social Fund Programme 2014-2020 and the Department for the Economy.