Reflecting Negatives to Positives
Neil tells us about his passion for photography, a passion he has rediscovered
I had a somewhat unusual introduction to photography and at quite an early age.
It was the 1970s and I was 4 years old. My Grandfather gave my older sister and I an old Brownie 127 camera to share.
It was an 8 frame film camera which was very basic, so my sister and I had 4 frames each. These had to be used very sparingly as the film had to go to Stevenson's (Stevenson's Studio – just up past the Chronicle office – remember Sam Stevenson?!) , in Newtownards for processing.
Normally films were developed at home in our house. You see, my father was the President of the Northern Ireland Photographic Society or NIPA for short. So, like it or not, most family trips out were as much about photography as they were about fun as even my mother had a camera too.
Without realising it as a young child, we all had a great teacher in my father and we were all members of the then, Newtownards and District Camera Club (now Ards Camera Club), even my Grandparents!
Anyway, during the next few years, my photography improved and as my photography improved, so too did my camera before matching the SLR of my father (a Minolta XD7 for those familiar!) at around age 8. It wasn't just my photography that improved, but my darkroom skills too. I was processing, enlarging, using sepia as well as black and white, still learning all the more.
My father's favourite subject was Natural History (birds and bees etc) and without realising it, we all followed where he led. We didn't stop taking other photographs – we still did landscape, portrait and studio work too – some with the camera club and some independently.
A couple of years passed before tragedy struck. My father was photographing seabirds from the top of a cliff, when he fell. Alas, around a week afterwards, he died of his injuries.
That was it for our photography. The cameras were put away and the darkroom tidied of chemicals. I was 10 years old and my father had just turned 36.
Years passed by and the cameras were still packed up. I was around 17 years old, had left school and was working. It was around 1989/1990 and I had managed to get a Saturday off for the airshow at Newtownards Airfield. I just have a love of planes and remember the buzz of airshows from the 1970s.
The weather forecast was a bright, blue sky day. It was that day I decided to get out my camera and some of my father's large lenses to rise to the challenge of taking photographs of small, fast moving subjects (and focus at the same time!).
I set off early with a 500mm lens, picked my spot in the middle of the runway and waited with all my knowledge of airshow performances and photography both. (You may have seen me with a metal camera case – from my early years, it was a seat as well as a step up for extra height – I still prefer to use it when I can!)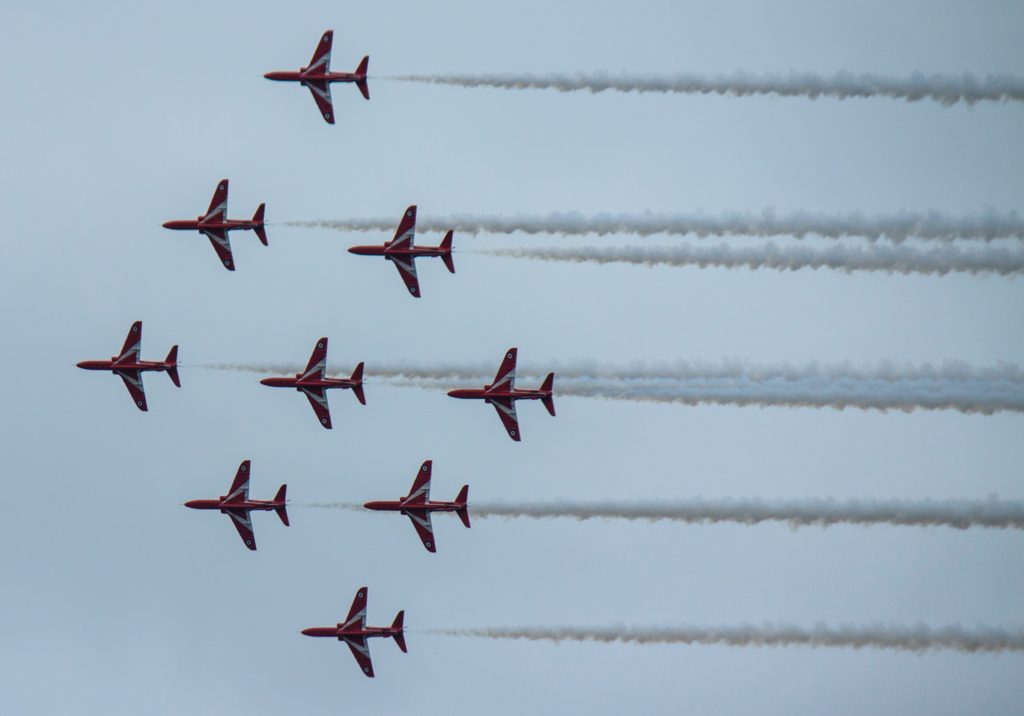 The opening act was The Red Arrows. I didn't have a tripod with me, so I had to control my panning, my breathing and my shutter depression as I focused and took my shots. I used my airshow knowledge of where to look for the Diamond 9 arriving.
People around me were saying they couldn't see them yet, while I was looking through this big lens, panning as they drew nearer. I got some lovely shots as they turned on their smoke and right through their performance. In fact, I got some great shots that day of nearly all of the aircraft, changing shutter speed between acts to have propeller/rotor movements etc.
I felt alive again at the end of the airshow and confident that I had some great shots. Now I had to save enough money to get them processed! When I got them back, I was very pleased with the results. Of course I'd had to pick my shots carefully, because I only had 36 precious frames each film!
I started to use my camera again, but mostly for family type candids. I took some photographs of a bride leaving her mother's home as a favour. No real outings or purpose. The camera sort of got set aside again, until the next airshow, if I could get the day off!
Time passed and it was early 2000s. I wasn't long married when my wife and I took a trip 'down south'. The weather was amazing, as was the scenery. I found myself in a camera shop, buying a Canon 35mm (film) autofocus SLR!
I still don't know how it happened, but I was like a child with a new toy the rest of that holiday. Not taking amazing shots, but still taking good shots.
That camera got a lot of casual use, but not much serious use. There hadn't been an airshow in Northern Ireland in years and it wasn't looking hopeful there would be another one anytime soon.
I kept a distant eye on digital SLR cameras for a while, reading all about them and their capabilities for photography. Then I read about a Nikon D80. It was 10.2mpix, but it had the professional version of software built in – something that nothing else could rival at that time. I bought it (with a hefty price tag!).
It took some time to get used to this new brand and new type of photography. The autofocus had so many focus points, it took a long time to figure out what worked for me. I couldn't figure out the ISO function for a long time as it was really more applicable to film. The inbuilt flash was something I wasn't accustomed to, so I had to experiment with it too. It took me a long time to work through all the inbuilt software and menus, so it took me a long time to become comfortable with this new beast. (I should probably have rejoined the camera club to have learned a bit quicker – but that's hindsight! Clubs are actually there to help, not to look down at you!)
I was really impressed by this Nikon. I could clearly see a big difference in definition compared to the 6mpix. I realised then, megapixels matter! I had got to know my new camera quite well – even though it was a couple of years before I truly knew how to use it properly.
I used it mostly for pictures of the kids, family birthday parties and the like. My work was starting to cause my mental health to suffer around 2015. I tried lots of things to shrug it off – walking, listening to music, drinking and I even started to smoke again.
One early summer's evening, I drove down to Balldoaran Lightship. I set the camera up on a tripod and waited for the light to change. I'm sure you've probably seen the result hanging in New Horizons already? I got some wonderful shots that evening and I felt good again.
I started to carry the camera in the car with me again. I found myself looking for the right light or landscape. I was looking at the world differently again and it was so refreshing.
One summer evening, as I was driving home from work, I was passing through Comber during a thundery downpour, but I could see the bright sky following behind it. I thought I should stop on the hard shoulder and wait for it to pass. Scrabo hillside was a lush summer green and I knew that the light after the downpour would be glorious. So, I waited around 10 minutes and my patience paid off! You've probably seen it hanging in Ards New Horizons too. I emailed it to BBC Newsline Weather and they showed it, complete with photograph credit. It took on a life of its own on social media. I got a kick out of it. A temporary high. But, it's an addictive sort of high.
So, I kept looking and photographing, sending to the weather email and posting on social media. It all felt good. Really good.
Unfortunately, I hadn't realised how much my mental health had declined – and continued to decline. There was now a seismic difference between time spent in photography and the rest of my time. Eventually, even the biggest kick out of photography couldn't lift my spirit enough.
I conceded (during my summer leave period) to go see my GP. I never returned to work and couldn't even find the strength to get my camera out. I just seemed to keep going down further for about 3 months.
I had an appointment with my Community Psychiatric Nurse that saw me admitted to hospital as a crisis admission.
The Home Treatment Team drove me to hospital.
The funny thing I remember of the journey, was showing them my photography (on my phone)and getting a little kick from their reactions.
I spent about 10 weeks in hospital. When I got out, I was on all sorts of medications. Me, who would never have taken a tablet if I could have avoided it. That's probably why the new medication regimen was so hard for me to adapt to – apparently I was medication naive – meaning I hadn't experience of any of these types of drugs before.
I put on weight, I was detached, my mouth was constantly dry, I couldn't concentrate, my memory was suddenly terrible etc etc.
Then, my referral to AMH New Horizons was accepted. I was going to do Tiffany Glass!
I got the bus in with Sean and started to get to know the crowd.
I discovered there was a photography class and felt a spark reignited when I showed Pauline and Gary some of my work.
So, I started to take photographs again (as I was housebound for a few months after hospital).
I thought that I could perhaps share my work somehow, for others to see. My wife found a website I could use, where people could buy the images as prints to bedsheets. Together, we decided to call myself Blue Lens Photography UK. The 'blue lens' part was in reference and recognition of 'feeling blue' or depression. The UK part was added because we found a similar name in use in Singapore!
After a few months had passed, my wife announced that WWT Castle Espie were looking for volunteer photographers. I reluctantly applied and attended an informal interview with my wife as advocate.
To my surprise, they were (and remain) very supportive and with no pressure. I'd had to provide some evidence to my work online in my application. Luckily, my wife had set up a Facebook page and I had the website to refer to. During the interview, they told me that my photography was amazing. As a perfectionist, I don't regard my work that way, but it was nonetheless very nice to hear! And closed the interview with, 'when do you want to start?'
It's good to get close to nature, to be alone from family and to do something I enjoy. I also like to think that I'm giving something back, while I'm in a position to do it and enjoy doing it. I get the kicks of seeing my photography used, enjoyed and appreciated.
During the Covid 19 stay at home period, I've turned more to tabletop photography and my garden. It's amazing what you can see if you look hard enough and are patient enough!
I've just started to use a different website (https://neilr-finlay.pixels.com/ ) to upload my photographs to. I'll be honest and say that I take photographs to please me, not other people. I want to continue to enjoy what I do and don't want the pressure of having to 'perform' for someone else. My concept of an image may be completely different from the image someone else would like me to capture!
So, I enjoy what I do, what I can give back and what I get a temporary high from. It is a bit of a challenge, as I'm sure anyone with a camera will tell you, but does it bring you joy? Does it get you outdoors? Do you get closer to nature? Do you want to do it or give it a try?
---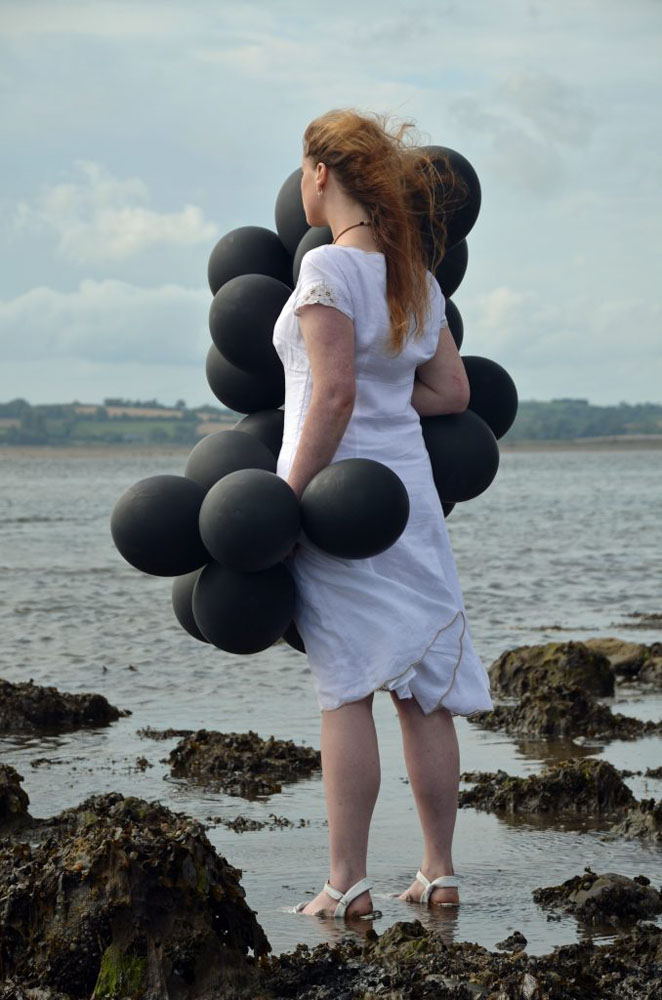 It's NI Mental Health Arts Festival this week – Many congratulations to Neil who has been accepted into the Open Call Exhibition – the theme is Identity and Neil chose one of the photographs he took during our "One Thing" film project.
One Thing
Artist – Neil R Finlay
Medium – Photography
Identity – The predominance of the part or parts of your life that come first and dominate the entirety of 'you'.(in the case of this submission – the black balloons represent facets and worries of depression; how they attach themselves to the person, weighing them down and obscuring their clear vision to provide a perspective through the darkness of poor mental health. The feeling of loneliness and treading against the tide, while burdened with depression is signified by the feet in water and the solitude of a single figure; alone and weighted.)
---
Neil takes part in AMH's Working it Out Project which is part-funded through the Northern Ireland European Social Fund Programme 2014-2020 and the Department for the Economy.