Rotary Club helps AMH New Horizons clients stay 'smart'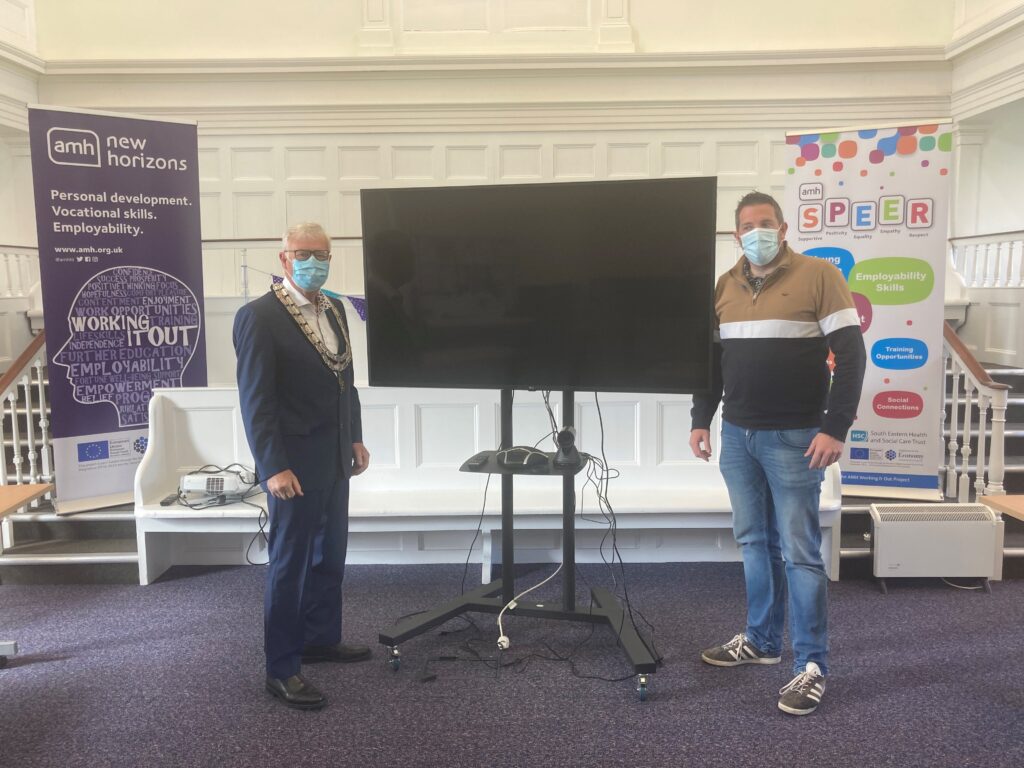 Smart technology has helped Action Mental Health clients feel less lonely and isolated during the lockdown, thanks to a generous donation by The Rotary Club.
In response to the coronavirus pandemic, which had a significant impact on the way AMH New Horizons Lisburn delivered services, all of its activities ­– including accredited vocational courses, arts and crafts – had to be moved online.
Now, as restrictions begin to ease, clients are being offered a mixture of online and in-house training at the charity's recently re-opened Lisburn premises at Railway Street.
The blended learning approach facilitate clients who are shielding and too anxious to engage in person in classes, and allows them to engage with those physically present at the service.
This engagement has been aided by the Rotary Club of Lisburn which has provided support to purchase a smart TV. The new television will be used by AMH New Horizons staff to make the delivery of this blended approach more seamless, affording clients the benefit of participating in courses including stress management, self-development and resilience building.
AMH New Horizons Lisburn Service Manager, Eoin McAnuff said: "Dr Paul McConnell, President of The Rotary Club of Lisburn, recently visited the service to see the new smart TV they kindly provided the funding for. This investment in new technology will enable us to delivered a blended approach to our training.
"This technology is a real game changer for how we deliver our services. It enables us to engage to a wider audience delivering a range of accredited and non-accredited training programmes aimed at improving the mental health and well-being of those taking part. We'd like to thank the Rotary Club for their generous support," Mr McAnuff added.
The approach taken by staff to facilitate clients during the lockdown has enabled the majority of the diverse array of courses on offer at New Horizons, from arts and crafts to accredited courses designed to help people get back to education, training and employment.
Dr Paul McConnell, President of The Rotary Club Of Lisburn, commented: "At a time when health concerns are forefront in our minds, these newly renovated premises and facilities in the old Quaker building on Railway Street are a shining example of Action for Mental Health.
"Our Rotary Club is delighted to be part of this, their "New Horizon", and to support Eoin McAnuff and his dedicated support team. Well done!"
Local Alliance councillor, Sorcha Eastwood was among guests to view the facilities of the recently relaunched service. "The team at AMH New Horizons are all doing such valuable work. It is really important that links between gaining confidence and a sense of purpose, are made, to maintain good mental health – it means we can better support each other to stay well."
One of the clients, Susanne Berrill, commented: "It has been a lifeline; it has made it possible to connect with people I haven't seen in a while and has been great for my mental health."
"I find it is good; it has helped me feel connected to people whenever I am not physical able to. It has made me feel included and the classes give me a routine and keep my brain active. Because of blended learning, I feel better about myself and its lovely to have support from clients and staff which I otherwise may not have had," agreed Emma, another client.
The programmes delivered at AMH New Horizons service are part of the "Working it Out" project, which is part-funded through the Northern Ireland European Social Fund Programme 2014-2020, the Department for the Economy and the five NI Health & Social Care Trusts.