Rotary Club in Enniskillen generates big boost for AMH Boost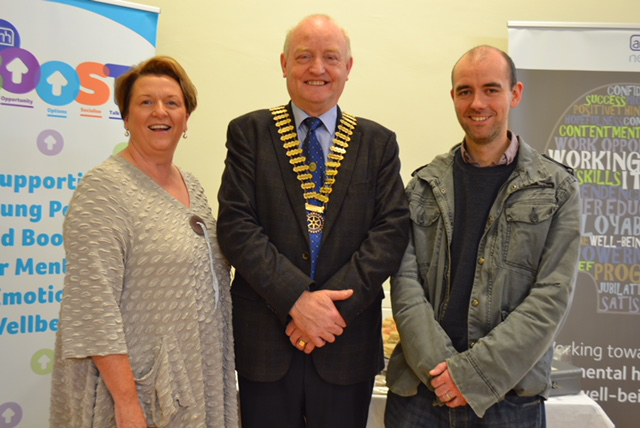 The Rotary Club of Enniskillen ran a very successful coffee and information morning in aid of Action Mental Health (AMH) in the Cathedral Hall on Saturday, October 7.  A steady stream of visitors called in to enjoy a cuppa and learn something of the work being undertaken at the AMH New Horizons Centre at Drumcoo. An amazing £2800 has been raised to date. Caroline Ferguson from Action Mental Health commented: "We are constantly overwhelmed at the generosity of local people and Saturday was no different. The funds raised will be used locally in Fermanagh to help young people living with mental ill-health."
Henry Robinson, from The Rotary Club, has chosen to support Action Mental Health during his year as President. They are fundraising for a dedicated project aimed at supporting young people aged 16-25. The proposed project is to provide a purpose built room for the young people who attend the Boost Programme at AMH.
Boost is aimed at 16 to 25 year olds who are concerned about their mental and emotional well-being. It provides a programme of positive steps and personal development to help them get back on track. At present there is no dedicated space for the programme.
The new room at the Drumcoo centre will give them the space and freedom to discuss and address mental health issues, which for many people, remain taboo. Boost provides opportunities for self-discovery, helping young people regain confidence, have fun and make new friends. The programme combines training, personal development and activities, to help build resilience and promote positive coping techniques alongside other young people facing similar challenges.
Henry said: "We are delighted at the response we received on Saturday, it is a great start to our year of fundraising for AMH and on behalf of everyone at the Club and at AMH, a massive thank you to the people of Fermanagh for their generous support.
"Good mental health is something we all need to consider and the work that AMH does with our young people is absolutely vital. I hope that others will join us in supporting their work."