Team AMH runners revel in half- marathon buzz despite the downpour!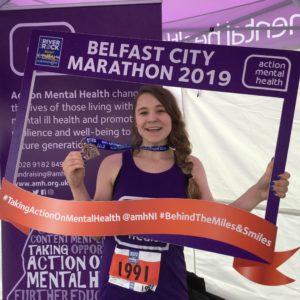 Runners of all ages and from all over Northern Ireland kept on running despite repeated downpours, all in the name of supporting Action Mental Health's vital recovery and resilience-building services.
Team Action Mental Health showed its true mettle on Sunday, braving rain and even thunderstorms to complete this year's Deep RiverRock Belfast City Half-Marathon.
Over 90 members of the public and staff of AMH created a purple haze during the race, in which the charity was one of five chosen charities to benefit from the popular annual event.
AMH Fundraising and Engagement Coordinator, Alex Murdock, led the charge on Sunday, taking part in the Deep RiverRock Belfast City Marathon's Challenge 13.1 initiative. Challenge 13.1 drew one participant from each of the five designated marathon charities and each was mentored throughout their training, receiving tips and advice on the best way of tackling the miles.
AMH Finance Manager Francis Tumelty, who was part of Team AMH Relay in the full marathon in May, returned to the road again, putting in a decent time not too far off his personal best.
Other runners who signed up to run and raise money for Action Mental Health did so for a variety of reasons, with many of them having had personal experience of mental ill-health or a family member affected by mental illness.
A number of runners came by the AMH marquee prior to the race for photographs and to share in the buzz, with many returning again following the event – soaking but in good spirits.
Well done to all of you who took part and from all of us here at AMH – a huge thank you!
Kevin Durkan

Peter McClintock and Aiden McKeever

Andy Campbell

Benjamin Brew and Mark Doyle

Emma McSorley

Joanne Chon-Kwan
Joanna Jurek

Diarmuid McLaughlin

Frankie Morgan

Brenda McAvoy and Aideen Fagan

AMH Finance Manager Francis Tumelty

Patricia Walsh
Clara Dorman

Marianne Downings

Arlene McConaghie