The new world of Zoom – a personal reflection by AMH client at Belfast New Horizons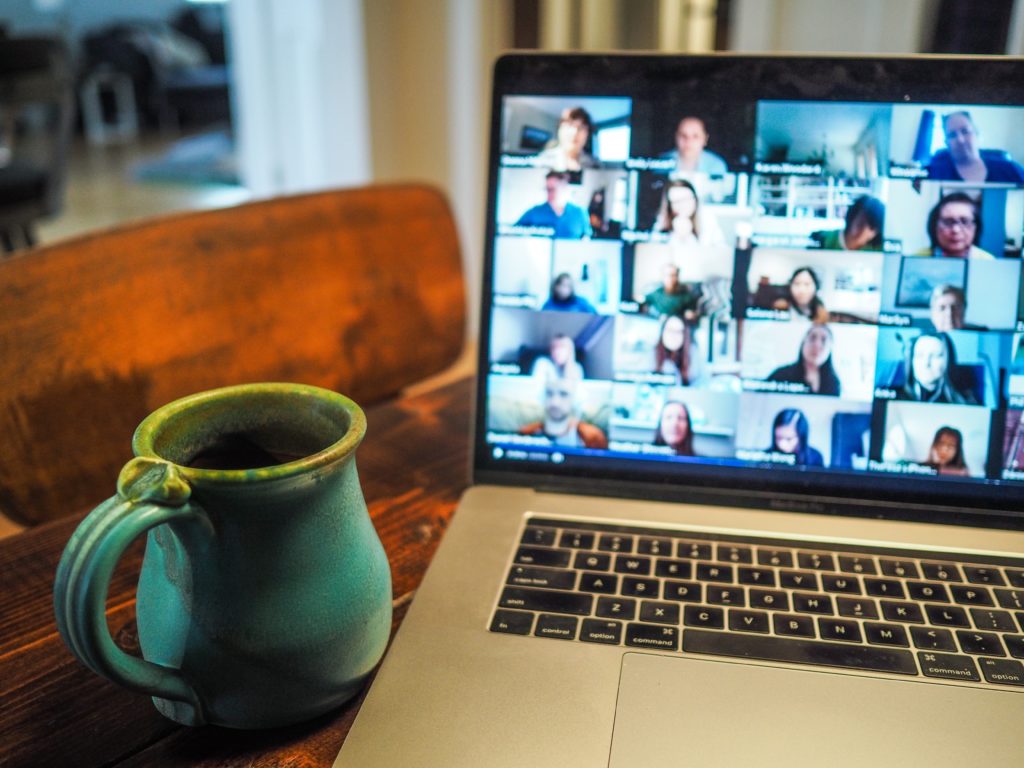 "It's hard to believe that a few short months ago and a world away from here, I knew nothing of coronavirus, lockdowns or social distancing. Another thing I knew nothing about was Zoom. Zoom, for the uninitiated, is the platform of choice for many of those who wish to meet-up and chat online. All kinds of activities are being hosted as the lockdown continues, and organisations like Action Mental Health are bridging the distance between New Horizons services and its clients. You are probably already familiar with Zoom, as many TV shows have been using the technology for years: you know the sort of thing, lots of boxes on a screen, each with a talking head inside. It can look a lot like Celebrity Squares, if anybody is old enough to remember that – Bob Monkhouse, with a grand handcuffed to his wrist! If you haven't used it yet, you might be wondering what it's like, so here are a few thoughts on how I have found using it in the sessions on offer at AMH.
"In order to participate in the sessions, you need a device such as a smartphone, tablet, laptop etc, a connection to the internet and an email address. Once you have these, it's as simple as clicking on a link, sent to you by the session host, which takes you to the virtual meeting area. Before entering the virtual meeting area, you will be asked if you wish to connect with video and audio, so you choose your preferred options and it is as easy as that – you are into your session. Simple right? Ah, hell NO! Far from it, because on choosing video and audio all of a sudden there are people looking at me, in my parlour and there's me with my double chin and thick neck in among them, looking back. Now, I'm new to New Horizons, having joined just as the lockdown began, so I don't know anybody and I don't know how to behave. I'm awkward in real life and have been being coached out of the house by a wee Occupational Therapist for years, and now suddenly I've got five people in ma front room with me! I wave and say "hello" and my session mates wave back; I'm struck dumb. The session host chats with some of the other participants. I look at myself – I can't stop looking at myself. Is my nose really that bulbous? Have I shaved? Have I got a handlebar moustache? Can they see that pile of washing in the background? Can they see up my nose if I lean forward? On and on I picked myself to pieces. Everybody seemed so relaxed with it. Am I a freak? Have all these people been doing this for years and I didn't know? I mumble something in response to a question directed at me, my heart racing. Oh God, let this be over soon. Forty agonising minutes later, my first Zoom session ends.
"Now, you might think that the story would end there, given my allergic reaction to my first session. But no, and for a couple of reasons, but primarily because, in this time of Covid-19, I was left with little alternative so I went back on again – and again and again. Slowly, I started to warm to the experience and I even found a voice and started joining in discussions. I stopped worrying about the pile of washing in the background and obsessing about my online appearance. I would even go as far as saying I started to enjoy the different sessions I attended. I even started to look forward to them, in fact they kind of became the highlight of my lockdown. So, if you have been toying with the idea of joining in the Zoom sessions hosted by AMH, give it a go. Don't expect to feel 100% comfortable with it straight away, but hang in there – who knows, you just might enjoy it."
The client author of this personal 'Zoom' story, attends New Horizons Belfast, which will return from the annual summer holidays on July 27, offering a blended services.
The AMH New Horizons activities the client participates in are operated through the "Working it Out" project, which is part-funded through the Northern Ireland European Social Fund Programme 2014-2020, the Department for the Economy and the five NI Health & Social Care Trusts.