This International Men's Day, It is time to break the taboo and talk about men's mental health
Suicide remains the leading cause of death in men under 50 in Northern Ireland, with a third of men reporting suicidal thoughts and 77% stating that they've suffered with symptoms of mental ill-health in their lifetime. Despite this, men remain nearly half as likely to seek professional help for mental health concerns. The message is clear. It's time to talk about men's mental health.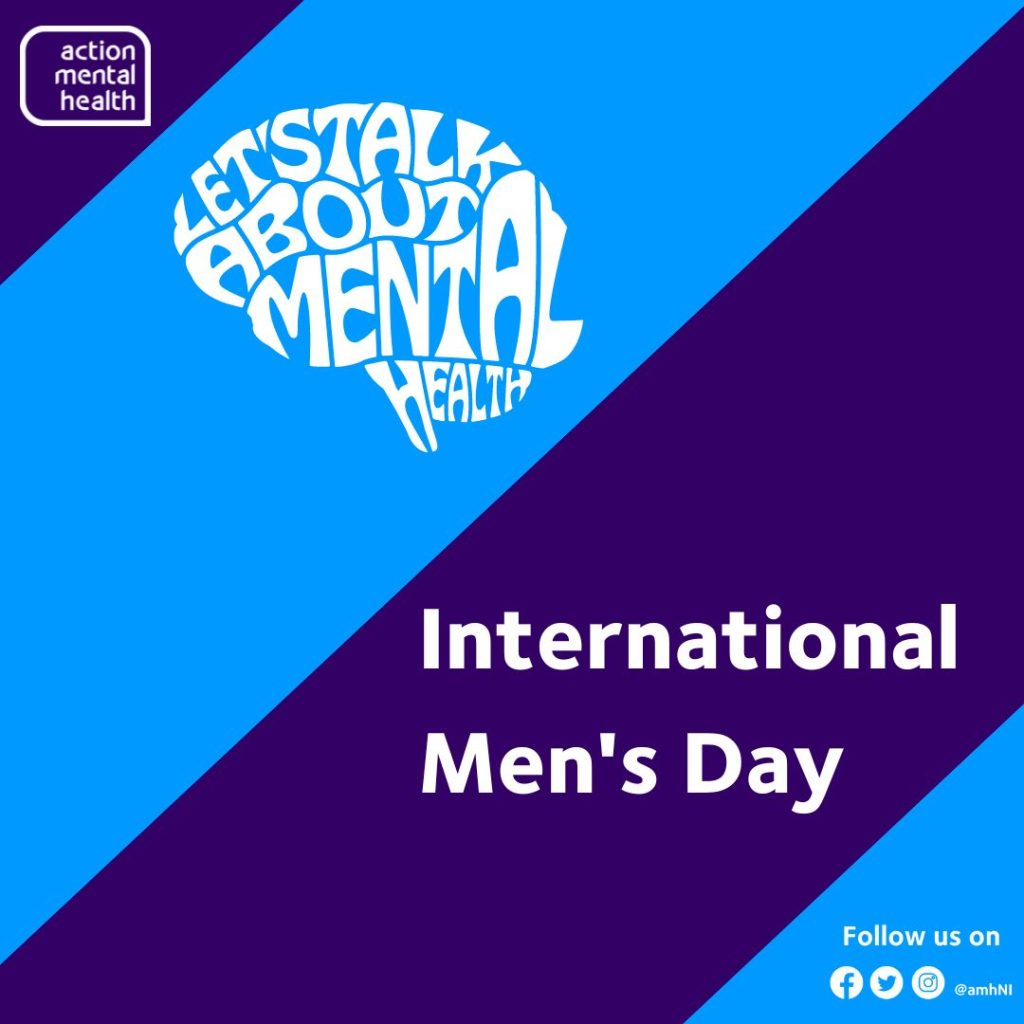 The Stigma around Mental Health for Men
Mental health can prove difficult to talk about, for everyone. Yet, societal expectations around masculinity and male mental health can often leave men feeling completely unable to speak up and access support.
As young children, little boys are consistently bombarded with the message that "big boys don't cry". As adolescents, they're frequently told to "man up" at the first sign of emotional struggle. As boys turn to men, they're quickly flooded with unrealistic ideals of masculinity whereby men can be expected to be the "provider" figure within households and are taught to never show pain or vulnerability.
It is therefore not surprising that many men are left without appropriate coping strategies, support systems and examples of how to prioritise their mental wellbeing.
In fact, a recent survey of UK men found that as many as four in ten won't discuss their mental health with close friends, family or medical practitioners. Startlingly, 40% also reported that it would take thoughts of suicide or self-harm in order for them to feel justified in seeking professional help.
These unrealistic gender stereotypes prove problematic in many ways. Not only does this stigma prevent men from accessing support, but also recent research indicates that the excessive pressure placed on men is further driving mental ill-health. Specifically, men appear to feel a disproportionate pressure to perform highly both inside and outside of the workplace, with 32% of men stating work-related pressure as a primary cause of stress and 31% citing financial pressures as a leading contributor.
Outside of the workplace, men report lower levels of life satisfaction than women, and are more likely to engage in risk-taking behaviours such as drug and alcohol abuse.
Whilst these statistics paint a worrisome picture, help and support are available. It's time to spot the signs, intervene early and begin to break the stigma.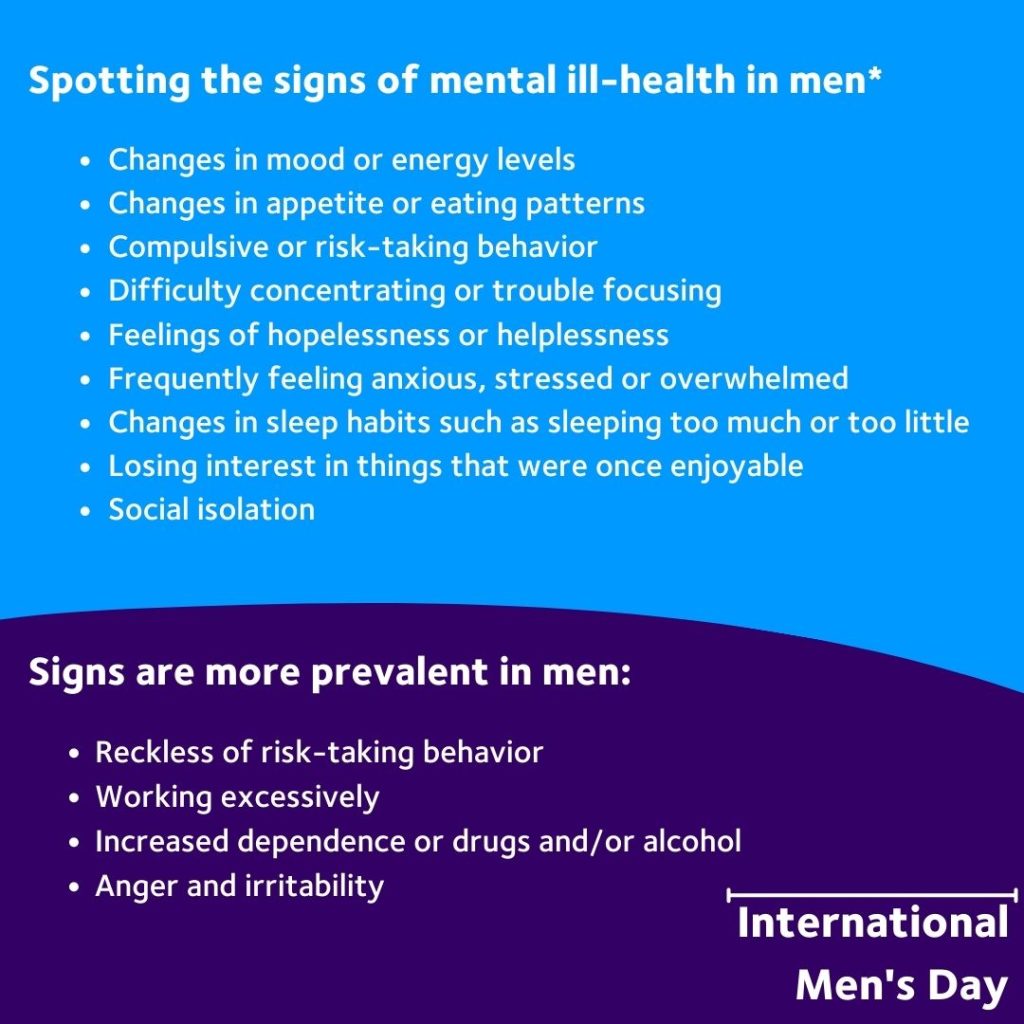 Spotting the signs of mental ill-health in men
In many instances, men and women will exhibit similar symptoms of mental ill-health. If you are concerned that you or someone you know may be struggling, consider the following common signs and symptoms:
Changes in mood or energy levels
Changes in appetite or eating patterns
Compulsive or risk-taking behavior
Difficulty concentrating or trouble focusing
Feelings of hopelessness or helplessness
Frequently feeling anxious, stressed or overwhelmed
Changes in sleep habits such as sleeping too much or too little
Losing interest in things that were once enjoyable
Social isolation
Whilst both men and women experience many of these symptoms, some signs are more prevalent in men. Examples include:
Reckless of risk-taking behavior
Working excessively
Increased dependence or drugs and/or alcohol
Anger and irritability
Silence breeds stigma
Reducing the stigma around male mental health often feels daunting. You do not have to do that work alone! We know that workplace stressors often act as a trigger to men's mental health problems, with many men feeling unable to ask for help within their workplaces. AMH Works aims to break down the taboo surrounding workplace mental health and promote employee wellbeing through specialized workplace mental health training. Qualified trainers deliver a range of prevention and early intervention workshops using best practice models in wellbeing to promote conversations and support for mental-ill health at work. Our training programmes include:
Men's Mental Health and Personal Resilience discusses the unique challenges and barriers men face in managing their mental health. This course utilizes evidence-based strategies to build resilience, combat stress and promote positive mental health.
Mindful Manager equips managers with skills, knowledge and confidence to address employee mental ill-health in the workplace and proactively contribute to the development of a healthy, resilient workplace.
Mental Health Awareness develops an understanding of mental ill-health and the skills needed to effectively and sensitively support employee and personal wellbeing.
Stress Awareness identifies common stressors that impact on an individual and provides practical advice on how to reduce the negative effect of these.
Personal Resilience focuses on how individuals can improve their own wellbeing and increase resilience, as well as introducing practical tools and strategies that provide participants with the skills and ability to cope with everyday life and work pressures as well as significant life events.
Burnout & Rest identifies the causes and stages of burnout, raising awareness of preventative approaches to avoid burnout and ways we can effectively incorporate rest into our routines.
safeTALK training will prepare you to identify persons with thoughts of suicide and connect them to suicide first-aid resources.
Mental Health First Aid enhances understanding of mental ill-health and develops skills, motivation, knowledge and confidence in offering help to individuals with acute mental ill-health.
Applied Suicide Intervention Skills Training (ASIST) will enable people in a position of trust to recognise risk and learn how to intervene to prevent the immediate risk of suicide.
Accessing mental health support for you or someone you know
If you or someone you know are suffering from poor mental health, you are not alone. As many as one in four adults in Northern Ireland experience signs of a mental health issue every year. Help is available:
Reach out to your GP: When you talk to your GP about your mental health, they will listen, give you advice and introduce you to a mental health service they think will be most helpful to you. These services may come from your GP surgery, a large local health centre, a specialist mental health clinic or a hospital.
Lifeline: Lifeline is a free 24/7 crisis response helpline service for those experiencing distress or despair. Lifeline is there to help 24 hours a day and can be contacted on: 0808 808 8000
AMH New Life Counselling: AMH New Life Counselling provides high quality counselling services across Greater Belfast. Further information can be found at: https://www.amh.org.uk/new-life-counselling/
Details of further support services and helplines can be found at: https://helplinesni.com/
Article by Lauren Houston –AMH Works Trainer
Lauren currently works as a trainer within Action Mental Health Works which centres on reducing stigma and improving mental wellbeing in Northern Irish workplaces.
Having gained the National Academic Performance Award and a first class honours degree in Psychology, Lauren's professional pursuits have largely centred on reducing stigma and promoting early intervention for those suffering from mental ill health. Lauren has gained a breadth professional of experience within the mental health sector including complex mental health, homelessness, addiction, eating disorders and therapeutic intervention. Lauren has also taken an active role within the charitable sector. She is currently a committee trustee for both the Lawrence Trust and the Eating Disorders Association NI.