Together For You reaches 52,000 beneficiaries
Discussing the findings of the Big Lottery Funded Together For You Project at their final conference were expert panel members Barry Turley, Iris Elliot, Mental Health Foundation, Minister of Health Michelle O'Neill MLA, Robbie Butler MLA, Health Committee; David Babington, Action Mental Health, Gerry Lynch; Royal College of Psychiatrists NI.
At a conference on Wednesday 22nd June, nine leading mental health charities celebrated the achievement of reaching over 52,000 beneficiaries with mental health services through the Together For You project, at the La Mon House Hotel. That's over 15% of the population of Belfast (333,900) OR the entire population of Enniskillen, Antrim and Magherafelt combined! All at a cost of just £52 per head.
Together For You is a partnership project, funded by the Big Lottery Fund and led by Action Mental Health (AMH), working with Aware, CAUSE, CRUSE, MindWise, Nexus, PraxisCare, Relate NI and The Rainbow Project. 
The conference was attended by over 170 stakeholders from the voluntary, private and public sector, and was officially opened by Minister of Health, Ms Michelle O'Neill;
"I am delighted to open the final conference of the Together For You Project.  The figure of over 52,000 beneficiaries is a real achievement, and I congratulate all of the organisations and individuals involved. 
Championing mental health is one of my main priorities.  Anyone can be affected by mental illness, and I am determined that the Health and Social Care system provides top-class, recovery-focused care.  The outcome of the Together For You Project demonstrates that the voluntary and community sector also has a crucial role in providing mental health and wellbeing services, and I look forward to working with you during my time in office."
An independent evaluation of the Together For You project, conducted by PACEC revealed the improvement in people's mental health (over 90%), with a further 90% of beneficiaries reporting that they are more able to seek help with mental health issues and a further 90% reporting they're more able to direct others to sources of help and support.  It is also hoped that the project has a long lasting effect on people's lives, with over 94% of 294 past participants agreeing or strongly agreeing that the support they received had an ongoing / continued positive impact on their mental health and wellbeing.
Joanne McDowell, Big Lottery Fund NI Director, said:
"Before Big Lottery Fund invested in Together For You, we knew that we wanted to support an initiative that would improve people's mental wellbeing across Northern Ireland. We are delighted that Together For You has brought groups working in this field together, increasing their impact and allowing them to learn from one another. We hope this partnership will leave a legacy of new collaborations that will work to support people who need help the most."
David Babington, Chief Executive for Action Mental Health and spokesperson for the partnership said "The Together For You partnership has been extremely successful in reaching such a huge number of beneficiaries in a very short time, under budget.  This can only be attributed to the excellent co-ordination of services across the partnership and the sharing of knowledge and practices between the nine leading mental health charities involved. Thanks must go to the Big Lottery Fund for investing in new and innovative ways of delivering mental health services in Northern Ireland, the legacy of which will hopefully live on through sharing of that knowledge today at the conference."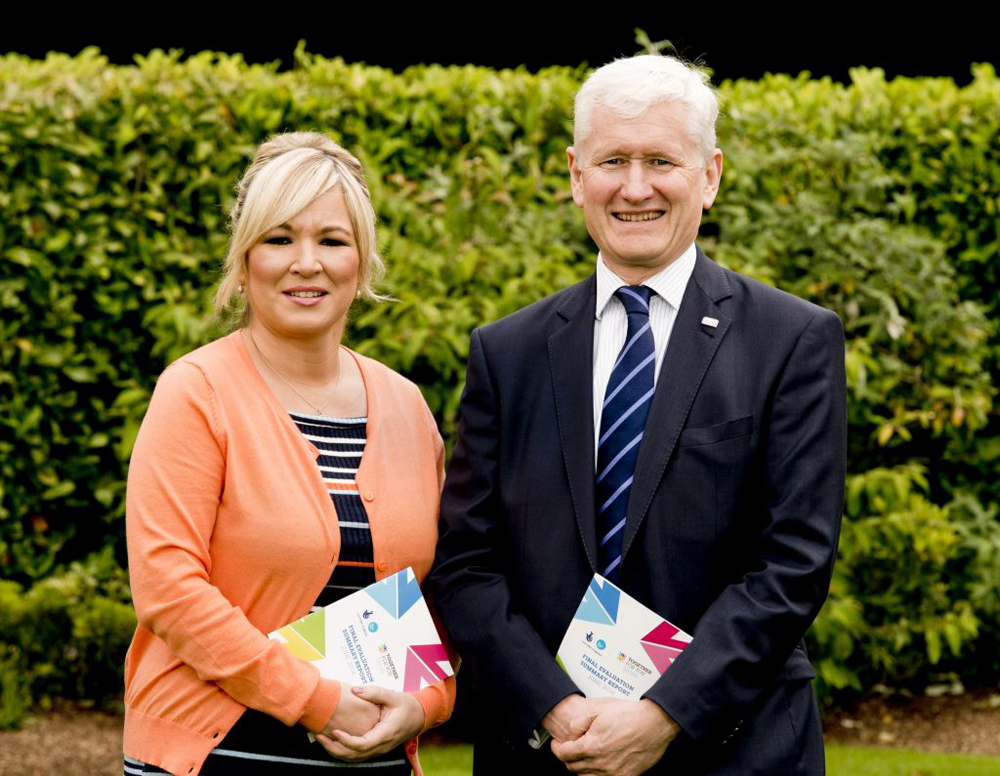 Conference attendees also enjoyed hearing from leading teen author Juno Dawson who gave some excellent insights into how she has been raising awareness of mental health with young people following the release of her latest book 'Mind Your Head' and also guest speaker Dr Iris Elliott, Head of Research and Policy at the Mental Health Foundation.  Thanks must also go to the beneficiaries on the day who bravely spoke about the help they received as a result of the Together For You Project.  
Services under Together For You are now closed, however the nine organisations will continue to work hard together to share the learnings from this unique partnership.  Read the full evaluation report here or contact the Together For You team on 028 9032 9150 or email [email protected].
Watch our final video summarising the achievements of the Together For You Project (9 mins):