Together for You
Celebrating World Mental Health Day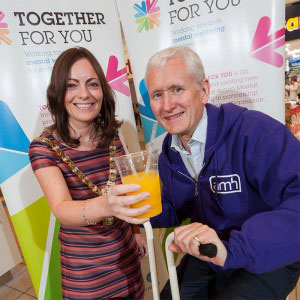 As part of World Mental Health Day, Together For You organised a mental health and wellbeing promotional event in CastleCourt, Belfast.  Together For You is a mental health and wellbeing project funded by the Big Lottery Fund.  The day was an opportunity to talk about mental health, and got off to a great start with a visit from the Lord Mayor of Belfast, Nichola Mallon.  
The statistic of "1 in 4 (people will encounter some form of mental ill-health in their lifetime)" is widely used. By conducting a quick poll of customers in CastleCourt, and anecdotally talking to those within the centre, this statistic seemed to be accurate. The survey also showed that over 65% of people had accessed help or information on mental health for themselves or someone else.  Despite this, 22% said they do not feel comfortable talking about mental health, the main reason cited was being 'worried what people might say'. 
David Babington, Chief Executive of Action Mental Health, lead partner of the Together For You project said
"The CastleCourt event was a great success, a chance for us to talk to people about mental health and wellbeing. By talking about mental health we start to reduce the stigma which continues to be associated with it. This awareness raising is a big part of the Together For You project, in which all our partners contribute"
 Joanne McDowell, Big Lottery Fund NI Director, said:
"We are delighted to see the difference that the Together for You partnership, which is promoting mental health and wellbeing, is making to people across Northern Ireland. This fantastic event in the heart of Belfast gave people a flavour of the services they offer, as well as encouraging them to talk about how they can look after their mental health."
The day started with an arts and crafts session with a Year 11 class from The Belfast Boys Model School, with CRUSE as part of the Northern Ireland Mental Health Art and Film Festival (NIMHAFF). Following this, customers of CastleCourt were able to watch a 'mood food' cookery demo by Vital Nutrition, and also try out a sound therapies session, with the Sound Healing Spa. Spirits soared, with a music session by Whiteabbey Day Hospital Recovery Choir, and later in the evening from Tiernan Heffron, a Year 12 Student from St Benedict's College, Randlestown and a beneficiary of the Together For You project via one the schools programmes. Thanks also go to Belfast Healthy Cities for bringing their pedal powered smoothie bike down for customers to make their own drinks, and to Ashton Community Centre for providing two of their complimentary therapists and providing head and hand massages for those passing through the shopping centre. Throughout the day everyone could enjoy the amazing art displayed in the centre, courtesy of the NIMHAFF.
Amanda Jones, Project Manager for Together For You said
"It's hard to believe that it was just a year ago that the Together For You project was launched.  To say that a lot has happened in that year would be a huge understatement. Along with recruiting staff, building websites and publishing newsletters, most importantly of all, Together For You's services are already making a difference to people in need. So far over 8,600 people in Northern Ireland have benefited from the project, and that number rises every day. That is 8,600 people more likely to talk about their mental health to others, to seek help when they suffer mental Ill-health and to contribute to takling the stigma surrounding mental ill-health. Today in CastleCourt we built on that growing momentum with a fantastic promotional event, thank you to all who came to visit us".

http://www.togetherforyou.org.uk/
Table test 
| | | | | |
| --- | --- | --- | --- | --- |
| rthrth | rrthrth | srgsr | srgsre | rssfgrgsgrth |
| rth | rth | rth | rthrthrt | hrth |
| rthrth | srgsrgg | srgsrg | srgsrg | sgsrgr |