'Tour for Tony' in memory of a beloved father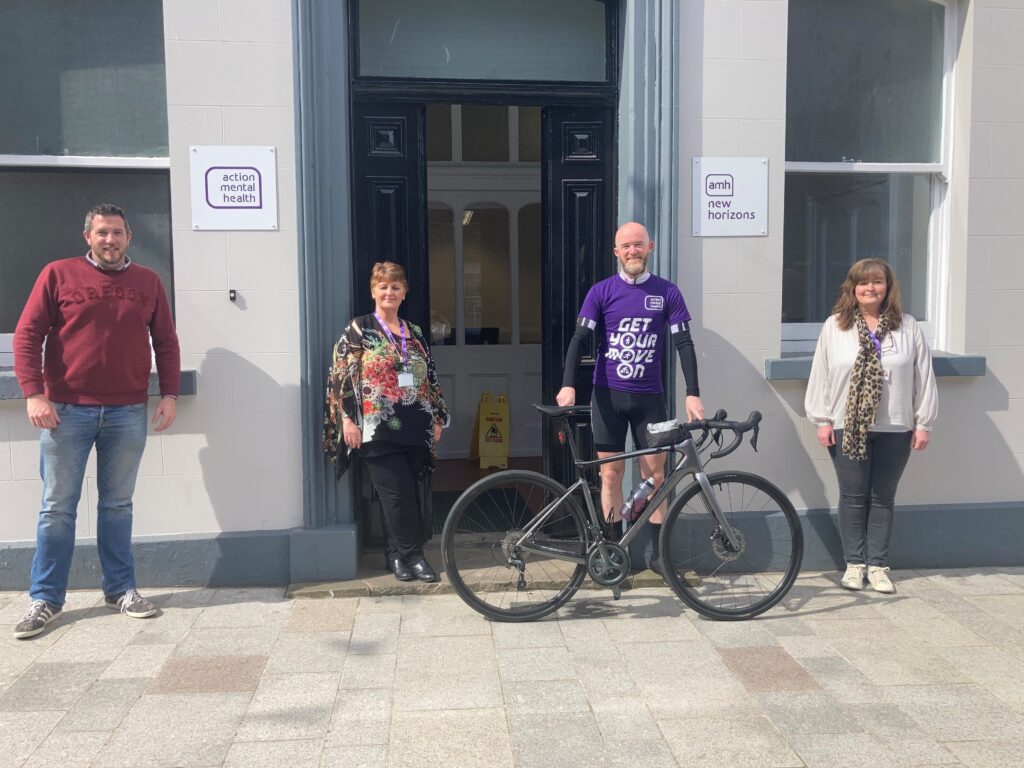 The son of a former client at Action Mental Health is asking for the public's support to raise money for the charity's Get Your Move On fundraiser, which he is undertaking in memory of his late father.
Anthony McCrory is cycling around Action Mental Health's services across Northern Ireland, before ending in Donegal where he spent happy childhood summers with his father.
Mr McCrory has chosen to make Action Mental Health's virtual 'Get Your Move on Challenge' a real-life cycle challenge to help raise awareness of AMH's vital services that helped his father graduate from a number of AMH New Horizons Derriaghy educational courses in the years prior to his passing.
Anthony explains: "I have signed up to take part in Action Mental Health's 'Get your Move On' challenge, and rather than do a virtual tour my plan is to cycle to each of Action Mental Health's locations around Northern Ireland, with the added plan to finish up in Bundoran where we spent holidays growing up.
"The reason I have decided take part and to call it the 'Tour for Tony' is in memory of my father, who died on December 31, 2019, from suicide. Before his death he had taken part in a number of events with Action Mental Health, was a regular at many of their meetings at AMH New Horizons Derriaghy, and graduated with a commendation from one of their educational events," Anthony reveals.
"I know that my father found the work they did with him was of great help, and without that help and support they provided, we may have lost him sooner. My hope is that by raising money and awareness of mental health I can help AMH help others in the hope that other families don't have to suffer the anguish that my family and I went through. For me, taking action on mental health is key – before it is too late."
Anthony went on to highlight that he too, found solace and comfort from Action Mental Health following his father's tragic passing. "I also know of the positive work that AMH do. Shortly after my father's death I received counselling from AMH New Life Counselling.
"At the time, being a man, I didn't think I needed the help. I had gone to see them to actually seek help for others, but I'm not afraid to say, that without their help and the counselling, I would have been lost."

As he prepares for his challenge, Anthony concludes: "We know that now, more than ever, the work of Action Mental Health is vital as they continue to support people."
Action Mental Health's Head of Communications and Fundraising, Jonathan Smyth praised Anthony's efforts.
"We continue to be amazed at the generosity and commitment of people like Anthony. As a local charity we rely on fundraising to provide many of our services. We also commend Anthony on his message of hope and encouragement for anyone who is struggling. Help and support is available and sources of support can be found on our website www.amh.org.uk. Lifeline is also available 24/7 on 0808 808 8000."
Action Mental Health's Get Your Move On virtual challenge is inviting the public to get involved and to sign up to complete the specially designed virtual route, by running, cycling or walking – or a combination of all three, at a time and location of their choosing from May 1, to July 31.
The 230-mile challenge is open to individuals and teams and has been designed to virtually cover Northern Ireland landmarks and towns where Action Mental Health has services located – starting in Foyle and making it all the way to Antrim, via Fermanagh, Downpatrick, Belfast and a few other spots along the way.
The beauty of the interactive challenge allows participants to do it at a pace that suits them, with those taking part being encouraged to use the Strava app to chart their progress and share with their supporters.
The programmes delivered at AMH New Horizons service are part of the "Working it Out" project, which is part-funded through the Northern Ireland European Social Fund Programme 2014-2020, the Department for the Economy and the five NI Health & Social Care Trusts.
"You can sponsor Anthony for this very special challenge by visiting: https://amh.enthuse.com/pf/anthony-mccrory