Translink Announces Action Mental Health as new Charity Partner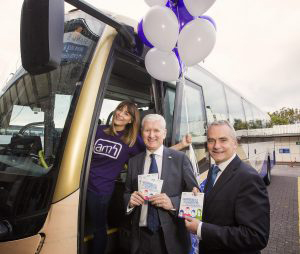 Translink has announced Action Mental Health (AMH) as its new Charity Partner for the next three years. The local charity works to raise awareness of mental health and supports the many people affected right across Northern Ireland.
With one in four adults in Northern Ireland showing signs of mental illness at some stage in their lives and psychiatric support services facing funding challenges, this new partnership will be an opportunity to make a positive difference to the lives of many people at a local level.
Announcing the new partnership, Translink's Group Chief Executive Chris Conway said:
"Translink has a long history of supporting local charities up and down the country. We are delighted to now partner with Action Mental Health as our Corporate Charity who were nominated and selected by our employees.  Mental health is so important at every stage in life from childhood right through to adulthood and we look forward to developing this partnership.
"This is also a great fit to help us promote all the benefits of 'active travel' such as giving people regular physical exercise and more 'me' time with a walk to their local bus stop or train station as well as more time to socialise and connect with others on board our services – all positive ways to support your own mental wellbeing.
"I have been so proud of our staff in recent years who make a huge effort to get behind our chosen charity.  As a major employer and by working together our efforts can make a big difference for the benefit of others.   We already have an exciting calendar of events being planned with fundraising going towards the AMH – 'Healthy Me' Programme aimed at local primary school children to positively promote mental health, social and emotional wellbeing.
"Over £30,000 was raised in three years for our previous charity partner which is fantastic and I would encourage our staff and customers to get behind our new Action Mental Health partnership."
In the last 5 years Translink employees have raised over £200k for a range of local charities across NI.
Action Mental Health's Chief Executive David Babington commented on being appointed Translink's Charity Partner:
"Action Mental Health is delighted to be chosen by Translink employees as their new charity partner. There are many people in Northern Ireland who have a mental illness or know someone impacted by it, so it's fantastic to know that with the help of Translink's staff and passengers we can raise the awareness of this serious issue even further and reach out to those who need our help most."