Ultra marathon man churns up the miles and funds for AMH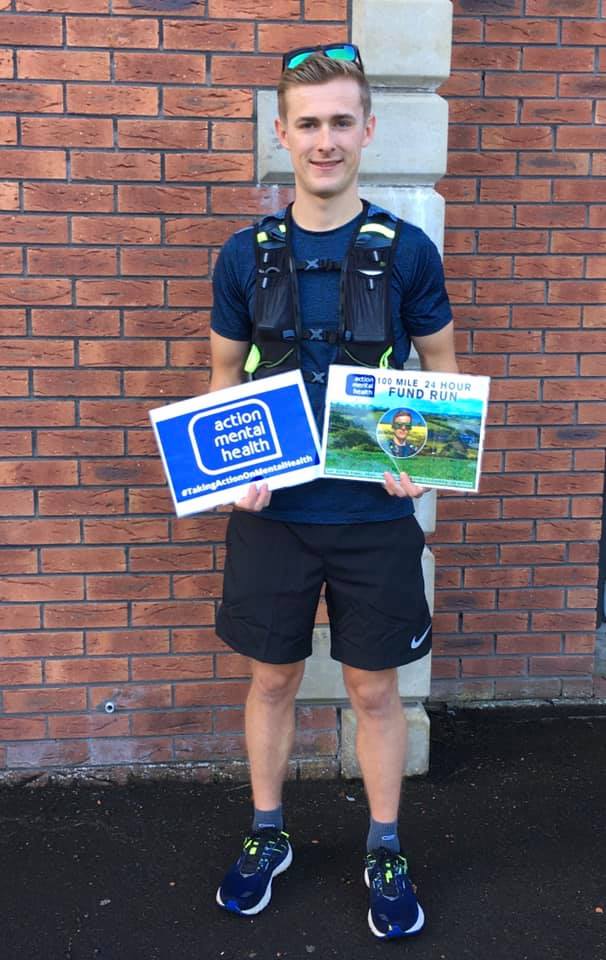 A Banbridge man has raised more than £3000 for Action Mental Health through a superhuman feat of endurance.
Jay Pinion ran 100 miles in 24 hours after plans for the Mourne Way Ultra Marathon in mid-June had to be shelved due to the lockdown.
The 23-year–old had been busy preparing for the ultimate test of his mettle but when the pandemic ruined his plans he decided to adapt them to suit the current times.
Jay, a former Banbridge Academy pupil, ran 100 miles in 23 hours 33 minutes around the country roads of his hometown on Saturday, June 20, running 18 loops of 5.5-miles, following a starting mile and a half, to complete his target total of 100.
Jay had hoped to raise £1900 but well-wishers were so impressed by his ambitious target they donated very generously to his cause, the recipients of that generosity being Action Mental Health.
Commenting on his thwarted original plans, Jay said it would have been a shame not to capitalise on all his preparation, taking to running during studying for his degree in Mechanical Engineering at Bath university.
"I've been training hard for it over many months and I think it would be a waste not to complete some kind of challenge in its place.
"I don't want this experience to just be about me. I also wanted this to be something meaningful for others as well, therefore I wanted to raise money for Action Mental. In my short life, so far, especially in the last few years, running has been like a guiding compass, always allowing me to navigate through the tough times. It keeps you focused, keeps you fit and strong and on long, solitary runs, has a profound meditative effect on your mind and body. Time becomes fluid when it's just you and the road," he said.
"Running, or any form of exercise really, will always make you feel better. Ask any runner ever. The endorphin high is real, I can tell you that, for sure. I hope this challenge can inspire at least one other person to get on their feet and get moving, whether that's walking, running, cycling, hiking, or whatever you enjoy; you can be sure you'll feel better after doing it. Guaranteed," Jay added.
Action Mental Health's Fundraising & Communications Manager, Jonathan Smyth commented:
"We are all absolutely amazed at Jay's challenge and delighted that he has chosen to do it in aid of Action Mental Health. The amount he has raised is simply phenomenal and will make such a tremendous difference. It has been a very challenging period for many people, however the generosity and kindness of people like Jay, has helped us to be able to adapt and carry on delivering vital services for people right across Northern Ireland. We want to say a massive thank you to Jay and everyone who has supported his fundraising.'