Wilson Group Raise Over £11,000 for Mental Health
The healthc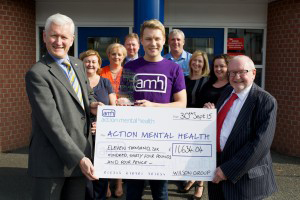 are division of Wilson Group has presented Action Mental Health with a cheque for an incredible £11,634.04.
Employees from the nursing homes located in Belfast, Bangor, Whitehead and Larne collectively raised the substantial sum of money from a catalogue of fun-filled fundraisers including a corporate clay shooting day with local celebrity Pamela Ballantine.
The proceeds will go towards teaching members of the community in Northern Ireland about the importance of mental health and emotional wellbeing.
Celebrating the success of the charity partnership, Chief Executive of Wilson Group, Desmond Wilson said:
"It is a great pleasure to present this cheque to AMH who do an amazing job supporting individuals living with mental ill-health by giving them the tools needed to get back onto the career ladder and realise their ambitions.
"In our profession, mental ill-health is something we come across every day, which is why we are extremely passionate about promoting positive wellbeing and breaking down the barriers of social stigmatisation that people with a condition can unfortunately experience.
"For this reason, we are delighted to have played a part in not only helping to raise funds for Action Mental Health, but also bring awareness to the mental health issues that thousands of people across Northern Ireland face and open it up for discussion."
Research has shown that one in five adults in Northern Ireland will show signs of mental ill-health at some stage in their lives and is 25% more prevalent here than in England.
Chief Executive of Action Mental Health, David Babington said:
"We cannot thank Wilson Group enough for being such a fantastic support in the last year and for being so creative in all their fundraising efforts.
"There has been a tremendous amount of camaraderie amongst Wilson Group staff and we have had so much fun working closely alongside them in what has been a hugely successful charity partnership.
"Everyone who took part in this year's fundraising events deserves credit for their achievements and it has been a privilege to share the adventure with them.
"The money raised will enable us to continue our hard work in providing life-changing services from 12 locations in Northern Ireland and teach members of our society about the importance of mental health."