World Mental Health Day 2020
#MentalHealthForALL #GreaterAccess #GreaterInvestment – David Babington in Conversation with local MLAs – a WorldMentalHealthDay special!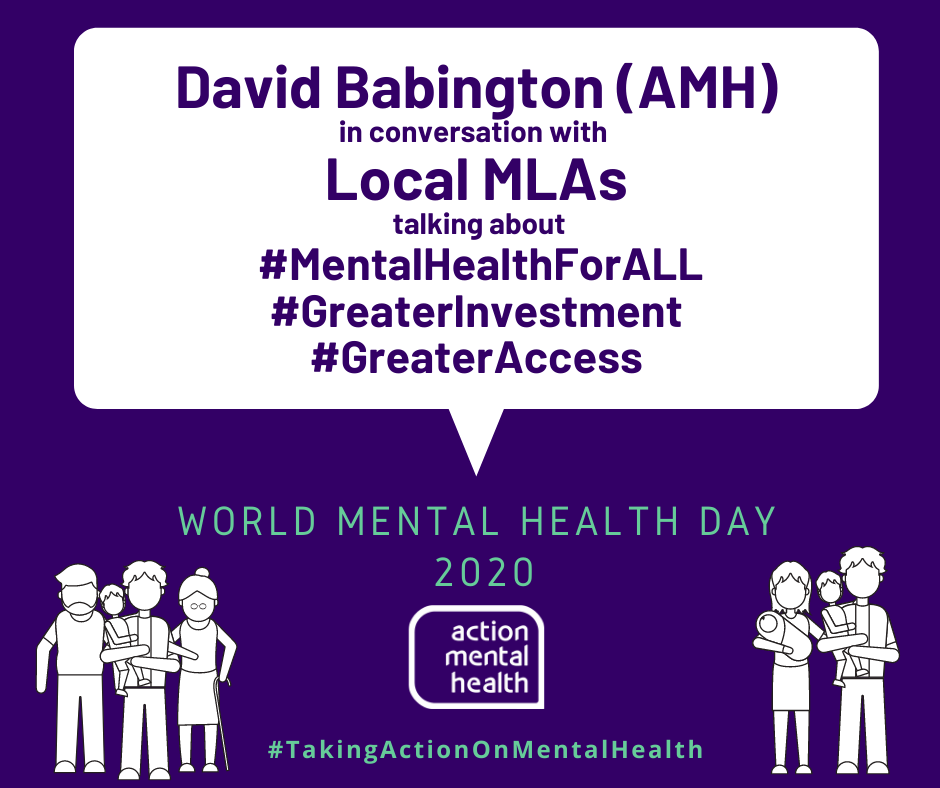 The need for greater investment in Northern Ireland's mental health services is the key driver to a healthier and more resilient society, local MLAs have told Action Mental Health's Chief Executive, David Babington, in specially filmed discussions ahead of World Mental Health Day (10th October 2020). Sinn Féin's Órlaithí Flynn, Robbie Butler of the Ulster Unionist Party, Paula Bradshaw of the Alliance Party and the SDLP's Cara Hunter, praised developments in Northern Ireland's mental health services, including the appointment of an interim Mental Health Champion, plans for a Ten Year Mental Health Strategy and the year old Protect Life 2 strategy on suicide prevention, but all agreed more needs to be done to ensure comprehensive funding is secured and allocated properly.
The cross party speakers also talked about the issues closest to their hearts, stressing the need for greater addiction services for those with a dual diagnosis and the need to support the carers of those with mental health issues. Focus was also placed on the need for agile thinking in the face of the pandemic's effects on Northern Ireland's collective mental well-being.
Órlaithí Flynn, MLA of Sinn Féin addressed the great strides achieved in mental health in Northern Ireland within the last year, stating those developments need comprehensive guaranteed investment to keep the momentum going, but pointed to greater efforts required to plug the gap in addiction services for those also experiencing mental ill health. She also issued a message of hope for those most affected by the Covid-19 crisis.
Paula Bradshaw MLA, Alliance Party, raised the struggle of carers looking after people with mental health issues and said they must not be left 'voiceless' in the new mental health strategy. She also pointed to her chairpersonship of the All-Party group on cancer and suggested the Cancer Strategy and its varied work streams could perhaps be used as a model to replicate within the development of the mental health strategy.
Cara Hunter, MLA of the SDLP said she was heartened by the Assembly's commitment to mental health and reiterated the urgent need for addiction and substance abuse services, particularly for those with mental health issues. She noted that things are starting to change, in part to cross party support and collaboration.
Robbie Butler, MLA UUP, said the past year's developments in mental health had brought the issue to everyone's lips, and echoed calls for greater investments in prevention and intervention in education, commerce and all strands of society to create a better 'meshed and melded' approach to mental health promotion. He further urged caution among those, particularly the most vulnerable, to prevent them from being overwhelmed by the 'bombardment' of news coverage and information on the ever-changing Covid-19 guidelines.
Many thanks to everyone who took part in this World Mental Health Day special – Action Mental Health joins with the global call for Greater Investment, Greater Access and Mental Health for All.
We will continue to lobby and work with the political and statutory sectors to ensure that our clients, service users and the wider community can look forward to a future of appropriate, accessible and fully funded services that will make a positive difference to mental well-being in NI.