World Suicide Prevention Day – a day of hope that suicide is preventable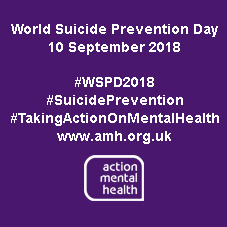 Today is World Suicide Prevention Day, a day marked annually to raise awareness that suicide is preventable. It aims to foster greater awareness, education and progressive ways on tackling suicide and to challenge the stigma surrounding the tragic subject.
World Suicide Prevention Day is held each year on 10 September, organised by the International Association for Suicide Prevention (IASP) and the World Health Organisation (WHO).
It's an opportunity, to showcase the host of programmes and projects Action Mental Health provides in the area of mental ill health prevention, education, suicide/self-harm prevention and early intervention.
AMH Works provides quality Mental Health training programmes for employers to support healthy, resilient workplaces.  AMH Works also develops the skills and learning required to effectively manage employee mental well-being in the workplace.
AMH MensSana supports all ages in the area of mental health and emotional well-being through a range of activities tailored to suit group needs. AMH MensSana operates across the whole of Northern Ireland.
In partnership with PIPS Newry & Mourne, AMH MensSana operate the Southern Area Protect Life Resource Service, here to help you regarding suicide and self-harm prevention and mental health promotion.
Just one of the many programmes promoted by Action Mental Health  – Safetalk will prepare you to identify persons with thoughts of suicide and connect them to suicide first aid resources. Find out more on our service pages.