Yes chef! Stephen Jeffers pops in to AMH to offer tricks of the trade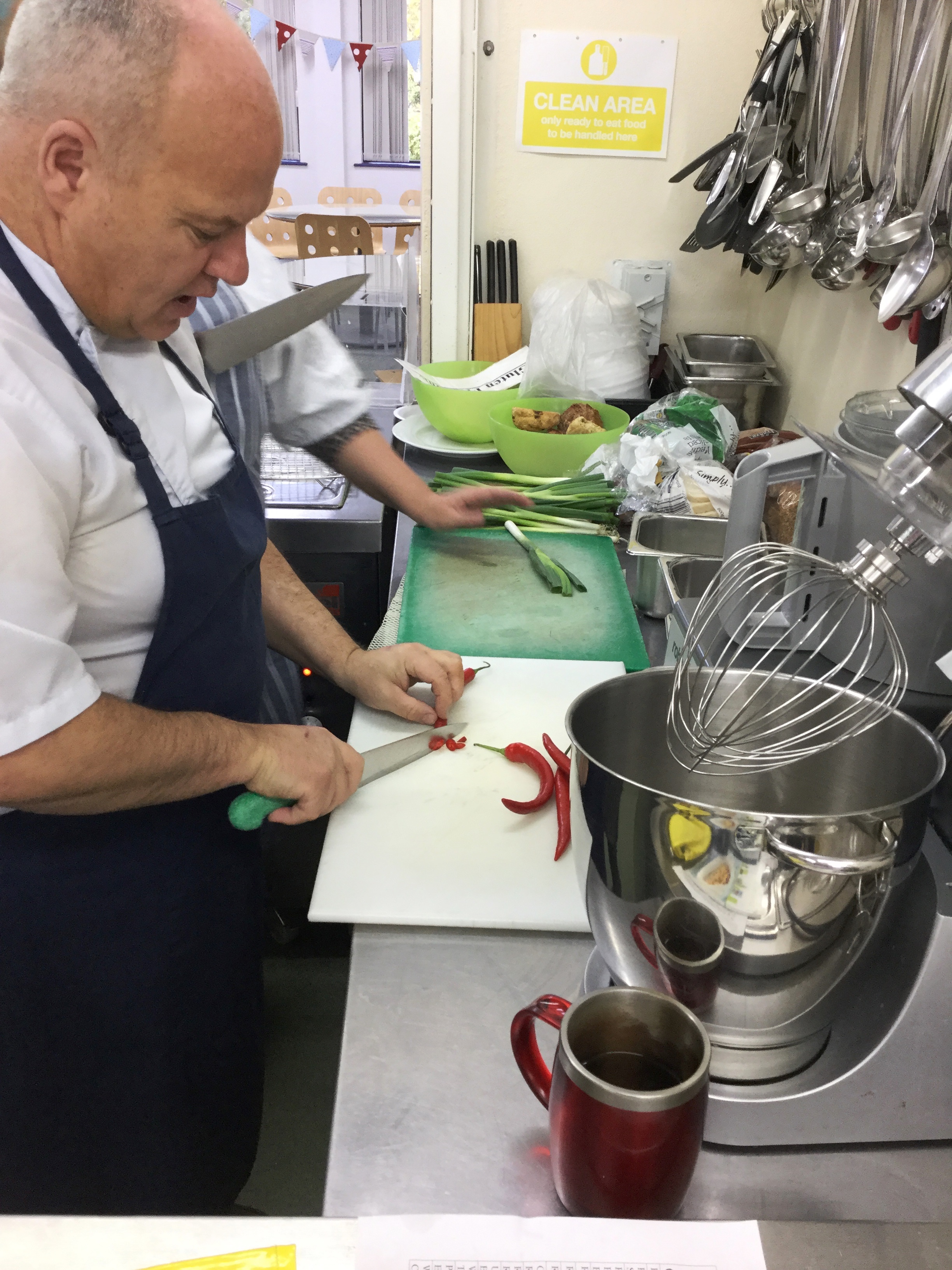 One of Northern Ireland's most popular chefs, Stephen Jeffers, has been unveiling the tricks of the culinary trade to future chefs at Action Mental Health.
Proprietor of the Forestside Cookery School, chef Jeffers visited with clients working toward their NVQ Levels 1 and 2 in Professional Cookery in New Horizons North Down and Ards.
Stephen hosted a masterclass in preparing a "fakeaway" type meal – sharing his flair for replicating a takeaway, for clients and staff alike keen to try it at home in their own kitchens.
The chef spent time talking to clients about working in the catering industry and gave them hints and tips for preparing healthy meals at home. His trademark wit and sense of fun made the day very enjoyable and he also encouraged clients to keep learning and enhancing their skills while still having a great time in the kitchen.
Emma Jayne Begley, Employment Officer at AMH said everyone was so grateful to Stephen for taking time out of his very busy schedule to give of his time and effort freely.
"It was it was a great opportunity to learn from an industry expert and the team was motivated and inspired to complete their training and progress further. Action Mental Health, New Horizons provide training opportunities for adults with mental ill-health who wish to return to employment, volunteering or further education. Stephen was able to make the event fun and engaging and we look forward to welcoming him back to New Horizons."
The project the clients take part in is part-funded through the Northern Ireland European Social Fund Programme 2014-2020 and the Department for the Economy
Stephen said he was more than happy to offer a few tricks of the trade to AMH clients.
"It was a great morning seeing the people, training to enter the industry, producing what they did. There were a lot of smiles and everyone really seemed to enjoy themselves and I was delighted to offer my experience to help them along their journey.
The former restaurateur, who owned the popular and award-winning Jeffers by the Marina, in Bangor added: "I think we are all vulnerable to periods of mental ill-health, as I was myself a few years back so I'm very happy to support a local charity like Action Mental Health."