Action Mental Health sees a 'New Horizon' thanks to Asda!
Action Mental Health New Horizons Antrim has received a £500 boost thanks to the Asda Foundation's Chosen by You – Given by Us scheme.
AMH New Horizons, which helps people in Antrim overcome the effects of mental ill-health through a series of health and well-being programmes – as well as providing vocational and employability training – will use the money to purchase musical instruments for its new group music sessions.
"Chosen by You – Given by Us allows shoppers to vote instore for a local organisation to receive a donation", explained Asda Antrim Community Champion, Barbara Logan.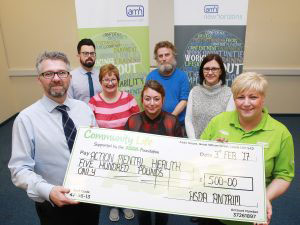 "Our customers love getting involved with the voting as it gives them an opportunity to make a real difference to an organisation, which directly benefits the local community they live in. The work AMH New Horizons does is incredibly important and it's a real pleasure to be able to give them this donation from the Asda Foundation."
John Davis, Service Manager, Action Mental Health said, "We are very proud of the work we do in breaking down the stigma associated with mental ill health and remain committed to ensuring that our service users are provided with the best possible support. The donation from the Asda Foundation will enable us to continue this work – in particular our new recreational group music sessions. A big thank you to Asda and Barbara for supporting us and championing the work we do!"