Allotment Growing Success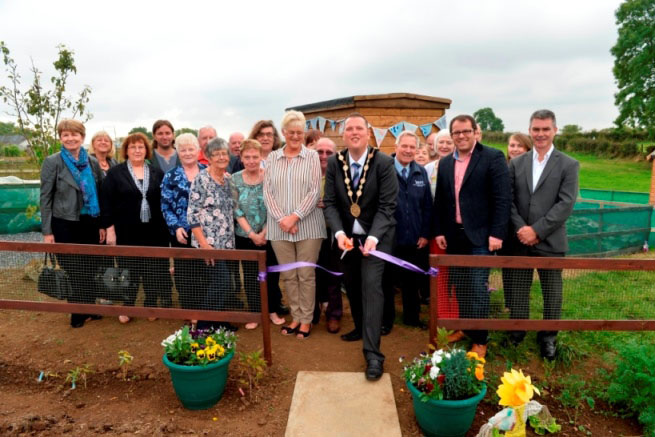 An allotment cultivated and nurtured to become a beautiful plot for the benefit of bereaved people from Lisburn and Belfast has been officially opened by the Mayor of Lisburn Councillor Andrew Ewing.
The Allotment, located at the Little Green Allotments on the Whitemountain Road has been developed by the Beyond Words Friendship Group which was set up last year for bereaved people over the age of 60.  Beyond Words is a partnership project between Cruse Bereavement Care and the Stroke Association which is funded by the Big Lottery Fund's 'Reaching Out: Connecting Older People' programme.
Beyond Words also worked in partnership with AMH New Horizons Derriaghy to help the Friendship Group Allotmenteers in the journey to turn a normal field into a beautiful resource that many people can enjoy today.  AMH Employment Officer Andrea Warwick said;
"AMH New Horizons Derriaghy view the allotment as a positive example of working in partnership.  This has enabled Andrew Dowling (our volunteer) to develop work skills and build confidence while working alongside people from the Friendship Group."
Paul Finnegan, Beyond Words Project Manager said;
"Being connected with nature helps people accept the inescapable cycle of life and death and this allotment is a great way for bereaved people to grow plants and vegetables for the future or simply sit back and enjoy the peaceful and tranquil surroundings of the allotments.  The Friendship Group and the Allotment provide the chance for bereaved people to chat freely over a cup of tea with people who have lost their own loved ones and can, therefore, understand something of what we have gone through and are going through."
The Mayor of Lisburn, Councillor Andrew Ewing speaking at the launch of the Beyond Words Friendship Group Allotment, said;
"I am delighted to be at the Little Green Allotments and meet with members of the Friendship Group.  It is commendable that Cruse Bereavement Care can make use of this green space to run a programme for bereaved people over the age of 60."
The Friendship Group meets on the third Monday of every month between 11am and 1pm.  Members often meet for a coffee or at the allotment in between meetings.  This is a personal choice, with no requirement at all.  To find out more about the group, call Paul Finnegan on 02890 792419