AMH chief rewards staff loyalty with long service award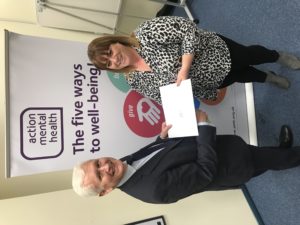 A project administrator who has spent 15 years contributing to the success of Action Mental Health has been rewarded for her loyalty to the charity. Liz Wright, who works at New Horizons Antrim, received her long service award from AMH chief executive David Babington.
"As an organisation we are very fortunate to have a talented and highly committed team and this commitment is clearly demonstrated by long-serving employees like Liz," he said.
"This dedication and loyalty is seen across the organisation and it is vital to providing services to our clients and the wider community in Northern Ireland."