AMH Nominated as Charity of the Year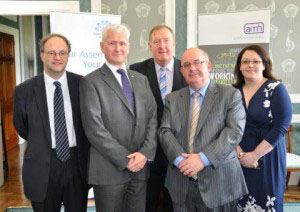 The Northern Ireland Assembly Commission has nominated Action Mental Healthas its first ever Charity of the Year. The appointment follows the Commission's approval of a new Charity Policy.
Following a proposal by the Speaker, the Commission chose mental health as the theme it wanted to support for the upcoming year and selected Action Mental Health as its nominated charity for one year.
Chair of the Assembly Commission and Speaker of the Northern Ireland Assembly William Hay MLA said: "I am delighted to launch this new Charity Policy on behalf of the Assembly Commission which is committed to supporting the work of the voluntary and community sector. Our new Charity Policy provides an additional opportunity for the work of charities to be supported at Parliament Buildings.
"In December last year, I used the annual switching on of the Christmas tree lights to recognise the work of mental health charities.  We heard some inspirational stories at that event and I am therefore delighted that Action Mental Health is our first nominated Charity as part of this new Policy to provide some additional profile for that cause.  Good mental health is fundamental to the health and wellbeing of every person in this society.
"The Charity will benefit from any Northern Ireland Assembly fundraising activities which take place in Parliament Buildings for one year at which point a new charity will be approved by the Commission for the following year. Of course, it is important to point out that other charities will still be able to host events at Parliament Buildings, with the support of MLAs."
David Babington, Chief Executive of Action Mental Health, said he was delighted to accept the honour on behalf of the charities' staff and clients: "We are very pleased that the NI Assembly Commission has chosen to focus on and support mental health and well-being this year and we are delighted to be named as Charity of the Year.  Our team in AMH is already hard at work organising a number of fundraising activities and events here at Parliament Buildings, and we look forward to working with, and having the support of the Assembly staff as well as the MLAs.  We will also be running a number of joint initiatives with the Assembly to raise awareness, tackle stigma and promote positive mental health, in essence taking action on mental health."
In addition to being able to hold a number of fundraising events in Parliament Buildings the Charity will receive all proceeds raised by staff at Assembly organised fundraising events.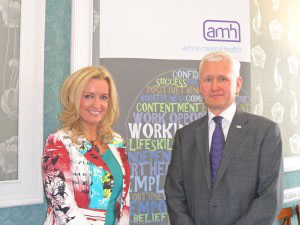 all the photos can be found on our facebook page :