AMH Puts The Wheels In Motion for Mental Health
AMH New Horizons Foyle have received £8692 from Awards For All Northern Ireland, to help them introduce a new cycling initiative which provides groups with the opportunity to either reengage with cycling or try it out for the first time.
The AMH Life Cycle project seeks to encourage Foyle service users to integrate physical activity into their daily routine and benefit from all the positive mental, physical and social benefits by taking part in a series of four 10 week cycling programmes.
AMH Life Cycle project offers clients the opportunity to: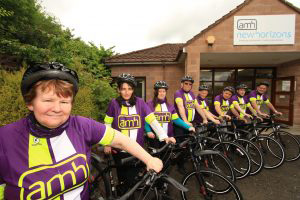 build cycling confidence and highway code knowledge
learn basic bike maintenance, repairs, and pre-use road checks
make new friends and join group rides in Foyle
adapt healthier lifestyle options
access bikes on weekends on an individual or group basis
Service Manager of AMH New Horizons Foyle, Mickie Harkin, said:
"We are all prone to being physically unwell due to certain lifestyle choices such as smoking, poor diet and alcohol misuse, which can often result in weight gain and other negative physical impacts.
"We're hugely excited to be launching the Life Cycle project this summer and welcome all of our clients to get on their bikes and enjoy the great outdoors with us."
The AMH Life Cycle project is available to clients of AMH New Horizons Foyle.  To take part, email Mickie on [email protected] or call 028 7137 3502. For more information please visit: www.biglotteryfund.org.uk/northernireland