AMH trains people to be workplace ready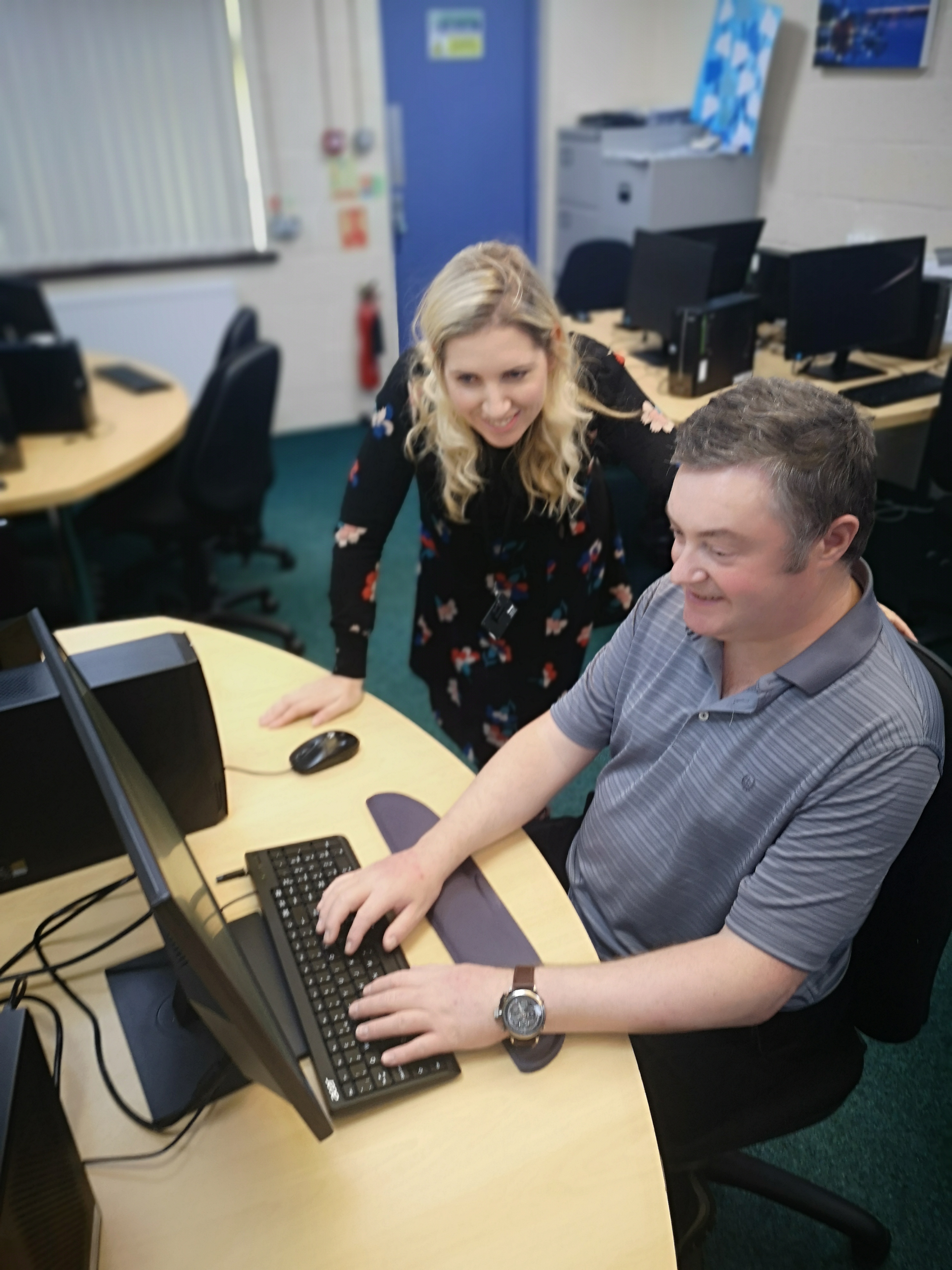 The future is bright for hundreds of people who attend Action Mental Health New Horizons thanks to its effective Job Clubs which help people regain the confidence to get back to work.
People who attend AMH's Job Clubs – at New Horizons' nine centres across Northern Ireland – may sometimes fear their mental ill-health will rule out future paid employment. Today, however, astute employers recognise that people with a history of mental ill-health can make a valuable contribution to their workplace. They are helping to consign to the past the assumption that mental illness precludes paid work.
New Horizons Job Clubs are supportive places were specialist employment officers provide one-to-one advice and guidance who are applying for work. They help clients update their CVs, take them through interview preparation and techniques and help take those unfamiliar with online applications through the whole digital process.
AMH collaborates with organisations like the Northern Ireland Union of Supported Employment (NIUSE) and other bodies in the voluntary sector to identify opportunities for people with disabilities who can act as the conduit between clients and potential employment.
One of the leaders at the Job Club at New Horizons North Down & Ards, Katrina McIlmail, AMH Employment Officer, explained: "This is all delivered in an informal setting and we work closely with clients to help them gain new skills, either through work-based training, work placement or through volunteering."
"We arrange employability visits to help clients experience the wide range of jobs that are available within their industry of choice and how best they can use their qualifications once achieved."
The Job Clubs complement the accredited qualifications delivered at AMH, which include a range of relevant contemporary subjects, including IT, retail and catering.
Recent visits have included delegations of AMH clients interested in the catering industry to one of Belfast's newest hotels, Titanic Belfast and the Clandeboye Lodge Hotel, Bangor. Clients also received an insight into what it is like to work for one of the UK's largest multi-nationals, visiting their local Tesco for employment tips.
But it's not just employment that the Job Club focuses on – AMH also supports people wishing to get back into education.
"AMH Employment Officers are available to with assist clients with their enrolment into courses at colleges and to help arrange learning support for people with needs such as dyslexia for example. We can also attend the centre of learning with the client prior to the commencement of their course, if they are nervous about their new start."
Participants of the Job Club undertake AMH New Horizons' 'Working it Out" project which is part-funded through the Northern Ireland European Social Fund Programme 2014-2020, the Department for the Economy and the five NI Health & Social Care Trusts.
Employers interested in offering employment opportunities can contact Action Mental Health New Horizons North Down and Ards on 028 9182 2410.
CASE STUDY
One client who has progressed through the rungs of AMH's Job Club is Gary. A very popular face round New Horizons North Down & Ards, he epitomises the benefits the Job Club can bring to clients.
At 47 years old, he is one of the countless clients who have completed an NVQ Retail Skills Level Two qualification during his time with New Horizons.
To fulfil the criteria of the course he worked at Assisi Charity Shop in Newtownards on a work-based training placement. Since achieving his NVQ Gary has continued to volunteer there and is now a much-valued member of the team. He serves customers, sorts stock, labels donations and puts his hand to any other jobs that are needed.
Gary is also invaluable in helping staff at New Horizons North Down & Ards. He regularly attends information stands, bag packs and events with AMH Employment Officers and other staff, to inform the general public about the fantastic work that the charity does to assist people like him back onto the employment ladder.
As a keen gardener Gary takes part in New Horizons' weekly gardening club, which is one of the reasons his confidence has soared. Gary, like countless others, has benefitted tremendously from the support he has received at AMH and by attending the weekly Job club, he receives ongoing support from AMH Employment Officers to help him secure a job in the local area.
"One thing we are sure of is that he will be an absolute asset to any employer," said Emma-Jayne Begley, Employment Officer. "Previously Gary worked in a service station and has taken part in the annual Job Shadow Day, run by the NIUSE, and he is very employment focused," she added.