AMH Scoop Workplace Award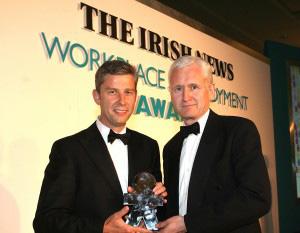 Action Mental Health were among the high-profile businesses which scooped the gongs at the Irish News Workplace & Employment Awards in Belfast last night.
A sell out crowd packed into the Ramada Hotel for the gala black-tie dinner, at which Department of Employment & Learning minister Dr Stephen Farry congratulated all the winners for their success in placing a firm emphasis on individuals and their positive contribution to the Northern Ireland workplace.
The prestigious event, hosted by award-winning BBC journalist Karen Patterson, saw 16 main awards being presented alongside a special 5th anniversary Champion Award. Jewellery tycoon Gerald Ratner provided a fascinating and inspiring riches to rags and back again on how he reinvented himself after his infamous speech in 1992.
And as well as the blue chip companies honoured, the Workplace & Employment Awards also recognised innovative organisations which are seldom thrust into the spotlight, including Openwave Systems and Fusion Heating Ltd.  
"The aims and objectives of these indigenous workplace and employment awards in the business calendar have all been met and exceeded," said Irish News editor Noel Doran. "The awards have strongly reinforced the message that people are our most important resource in what is challenging times."
Speaking at the awards Employment and Learning Minister, Dr. Stephen Farry, said: "The aims of the Workplace and Employment Awards go hand in hand with the direction set out in my Department's Skills Strategy for Northern Ireland. In order to support the local economy and with around 80% of the 2020 workforce already in work, my Department is focused on working with local employers to help them equip their employees with the skills they need – both now and for the future. I am pleased that the Department for Employment and Learning continues its unbroken association with the Irish News Workplace & Employment Awards".

"And as these awards have proven, there are many examples of excellent workplace and employment best-practice across Northern Ireland, and I believe it is important that we recognise and reward the efforts that our businesses continue to make in this area."
 The awards were supported by Tughans Solicitors, Royal Mail, PwC, Liberty IT, firmus energy and Investors in People and have been endorsed by key industry bodies the Recruitment and Employment Confederation (REC) and the Chartered Institute of Personnel & Development (CIPD).

 Winners 2011
Recruitment Consultant of the Year
Winner: Paula Reid,  Grafton Employment Group
Recruitment Team of the Year
Winner: Grafton Employment Group
Highly Commended: Abacus Professional Recruitment
Recruitment Innovator of the Year
Winner : Grafton Employment Group
Highly Commended : Clarendon Executive
Work Life and Wellbeing Award – Education and Public Sector
Winner : Department of Health, Social Services and Public Safety
Highly Commended: Southern Regional College and South West College
Work Life and Wellbeing Award – Private Sector
Winner : Openwave Systems Ltd
Highly Commended : Moy Park
Workplace Excellence Award – Public and Community
Winner : Action Mental Health
Highly Commended : Translink, Northern Ireland Housing Executive
Workplace Excellence Award – Education Sector
Winner : St. Mary's Grammar School, Magherafelt
Highly Commended : St. Colm's High School, Twinbrook
Best Place to Work – Small Organisation
Winner : Fusion Heating Ltd
Highly Commended : Napier & Sons Solicitors
Best Place to Work – Medium Organisation
Winner : FPM Accountants LLP
Highly Commended : Housing Rights Service
Best Place to Work – Large Organisation
Winner : Allstate Northern Ireland
Highly Commended : Kilrea Service Station Ltd
Right Place to Work – Small Organisation
Winner : Parker Green International
Highly Commended : George Best Belfast City Airport
Right Place to Work – Large Organisation
Winner : Lagan Construction
Highly Commended : Ashton community Trust, Echo Northern Ireland
Managing Talent Award – Small Organisation
Winner : Parker Green International
Highly Commended : Todd Architects
Managing Talent Award – Large Organisation
Winner : Santander UK
Highly Commended : Ladbrokes Ireland
Innovative Employer Award – Small Organisation
Winner : Manor Architects Ltd
Highly Commended : Young Enterprise NI
Innovative Employer Award – Large Organisation
Winner : Autoline Insurance Group
Highly Commended : FPM Accountants LLP
Champion Award
Winner : Allstate Northern Ireland