AMH's Review of 2020
New Developments, New Services
Action Mental Health had geared up for a very busy 2020, celebrating new and existing partnerships, as well as launching new developments, improving existing projects and fundraising – and what a year it has been!
Action Mental Health kicked off 2020 with the launch of a new programme dedicated to young people aged 18 to 25 in the Lisburn area. The SPEER service – Supportive, Positivity, Equality, Empathy and Respect – established in conjunction with Youth Action, offers young people the chance to develop personally and enhance their life choices through fun activities and accredited training.
In April, Action Mental Health was delighted to announce its merger with New Life Counselling. The move was designed to combine resources, services and expertise, to offer the best opportunity to develop and sustain mental health support for our communities in these challenging times. The merger is testament to the determination of AMH to continue to tackle the disparity between physical and mental health services, and copper fastens its commitment toward 'Taking Action on Mental Health' with the additional and valued support of its new AMH New Life Counselling service.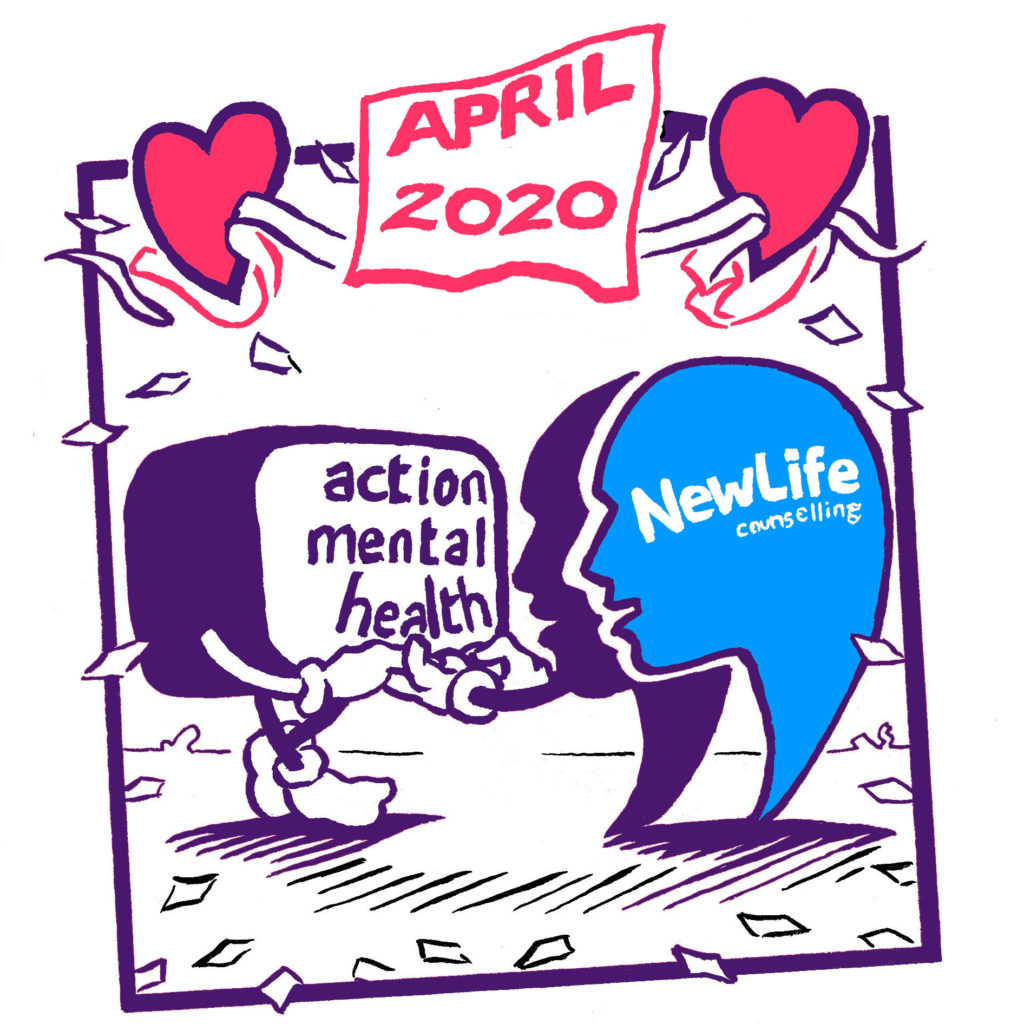 Action Mental Health has been part of pioneering work on developing artificial intelligence (AI) to help people's mental health and well-being. Menhir is being spearheaded by a collaborative team from Northern Ireland – including Action Mental Health and Ulster University – England, Germany, Italy and Spain. Work is also underway on the ChatPal project, the new mental health App which develops relationships, as well as engendering a sense of accomplishment and meaning among users. The app was launched early to meet increased demand for mental health assistance, due to the Covid-19 pandemic, especially among the isolated and people living alone.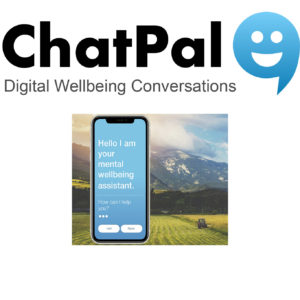 The EU PEACE IV-funded project, 'Our Generation,' began work earlier in the year and marked its official launch on 24th September, through a special virtual event, when its objective 'Growing Up Better – Together' was unveiled. The project provides a unique opportunity for communities, north and south of the border, to work together to halt the intergenerational impact of trauma and to build emotional resilience and peace for generations to come. The three-year project will run until December 2022, reaching 36,000 children and young people who will engage in peer support, skills development and confidence-building, to improve well-being within their communities. It is aimed that they will also act as agents of change, building peace for future generations.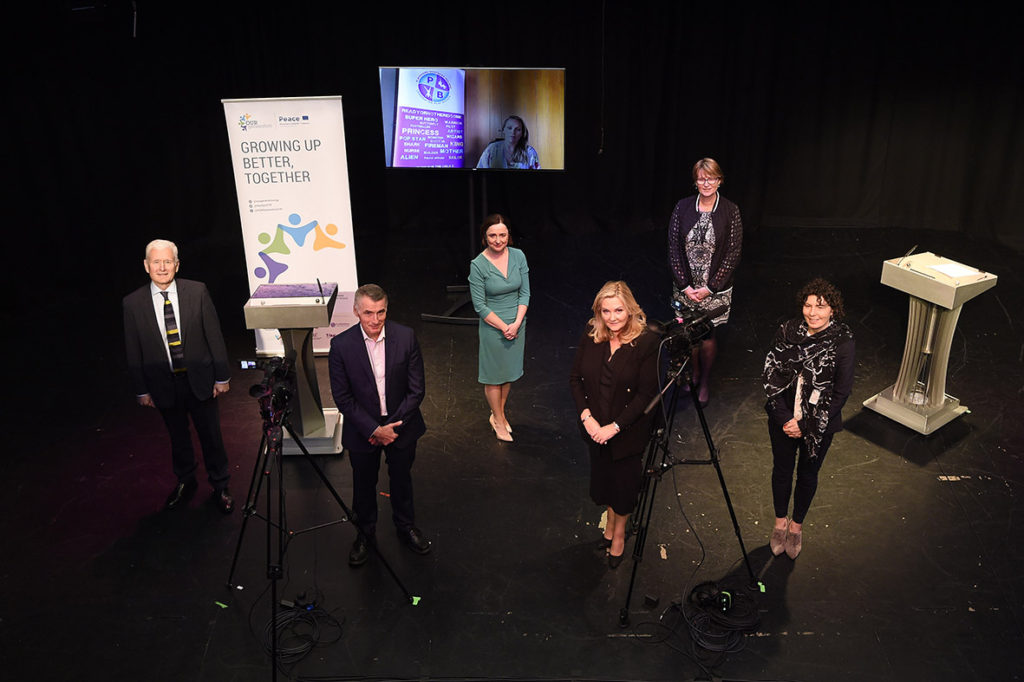 This year, Action Mental Health was delighted to return to Lisburn, when AMH New Horizons Derriaghy moved to the city. AMH New Horizons Lisburn brought its range of services to Railway Street in Lisburn at the end of September, creating more space and improved facilities for clients.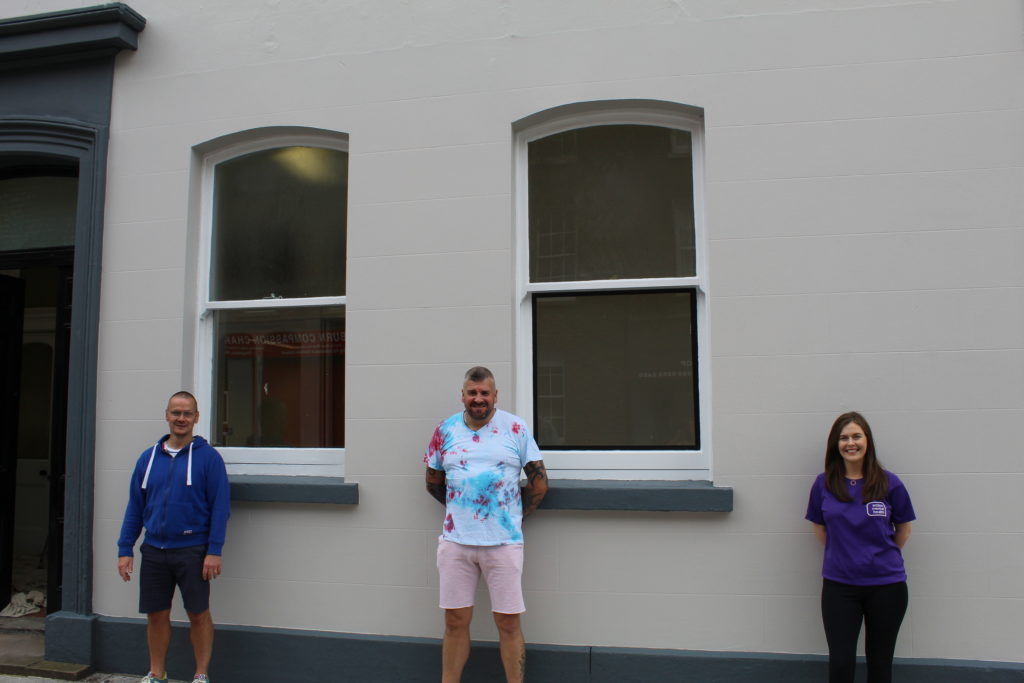 Adapting to Covid-19
This year saw the burgeoning of a new virtual world due to the Covid-19 pandemic, and in response, the development of a new well-being hub. A far-reaching initiative to promote positive mental health during the crisis was launched by the Departments for Communities and Health, partnered with 15 leading mental and well-being health charities, including Action Mental Health. AMH also launched a new section to its website homepage to direct visitors to a specially-collated information section on promoting and supporting mental health and well-being during the unprecedented period.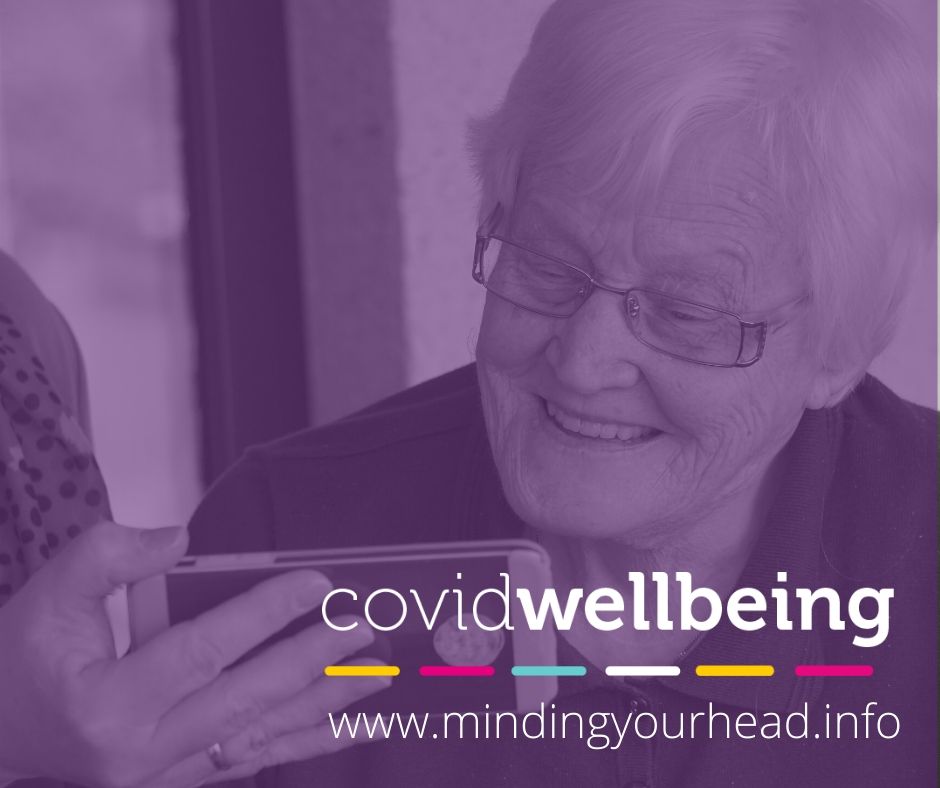 AMH has adapted and brought many of its services to clients, with a range of blended learning and support during the lockdown, with not one, but two members of Team AMH being rewarded with a coveted ICE award – heralding their Innovation, Creativity and Excellence. Skills Coach Sara Millar and AMH IT Manager Jonny Cirnaru received the awards.
The lockdown also marked AMH New Horizons and AMH Promote offering a virtual service and as restrictions eased, a blended service. Services around the country launched a comprehensive training calendar, delivering activity packs to clients, offering them workshop activities, online entertainment and educational packages, plus arts and craft materials. AMH MensSana, AMH everyBODY and AMH Works, also moved to online delivery, offering a range of training sessions. AMH New Life Counselling also quickly adapted and began to offer online counselling support to its clients, while the Workable team continued to provide support remotely as well.
#TakingActionOnMentalHealth
In its role as secretariat for the All Party Group on Suicide Prevention, Action Mental Health has hosted meetings regularly this past year, kicking off 2020 with a special focus on the particular issues facing rural communities in Northern Ireland, at AMH New Horizons Fermanagh. The charity was delighted to welcome local MLAs and community representatives, alongside other eminent guests including Professor Gerry Leavey from Ulster University, Michael Mowen from Oak Healthy Living Centre and Mary Friel from the British Red Cross. The group met again in March and heard from the interim Mental Health Champion, Professor Siobhan O'Neill. In May, AMH hosted the first ever virtual All Party Group meeting – due to the pandemic – with over 40 stakeholders attending.
AMH met with the First and Deputy First Ministers remotely in April, as part of the Mental Health Policy Group (NI). The meeting gave members a chance to press home the need for continued work on the development and implementation of a mental health strategy for Northern Ireland, as well as the mental health impact of Covid-19.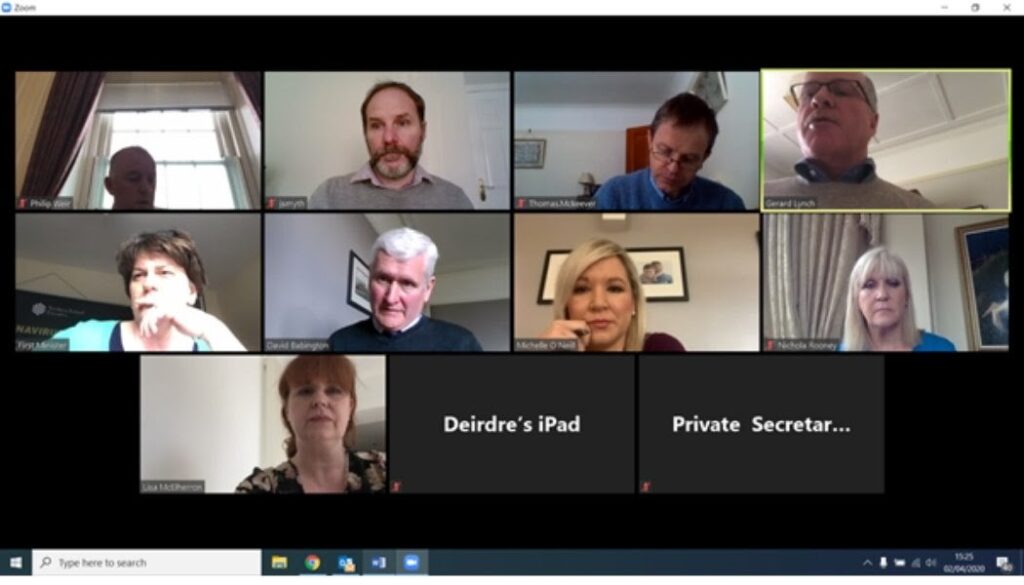 Action Mental Health ambassadors, champion gymnast, Rhys McClenaghan and Cool FM's Paulo Ross, helped kick off the charity's campaign to promote Children's Mental Health Week, in February. The AMH MensSana team got digitally creative, marking 2020's theme, 'Find Your Brave', producing 25 videos featuring children, young people and teachers from Presentation Primary School, Lismore Comprehensive, Irvinestown Primary School, Abbey Grammar School and Saintfield High School.
AMH everyBODY also created a series of web stories, social media posts and videos for Eating Disorder Awareness Week, focusing on the help available, personal stories, tips on how to talk to someone, artwork, poems and much more. The effort secured great engagement from service users, AMH staff and the Eating Disorder Team at the Southern Health and Social Care Trust.
Professor O'Neill again assisted Action Mental Health for World Suicide Prevent Day in September, when she appeared in a special AMH video alongside Órlaithí Flynn, Chair of the Northern Ireland Assembly's All-Party Group on Suicide Prevention; Lisa Archibald, Project Co-ordinator with the Families Voices Forum and AMH's Colin Loughran and Sarah Grant Jones, who all help deliver the charity's message of hope and remembered those lost to suicide.
In partnership with the Progressive Building Society and the Consumer Council, AMH helped launch the third annual Northern Ireland Savings Week, this September. During the week-long campaign, AMH raised awareness of the links between money worries and mental health and provided coping mechanisms as well as tips on looking after mental wellbeing and developing resilience.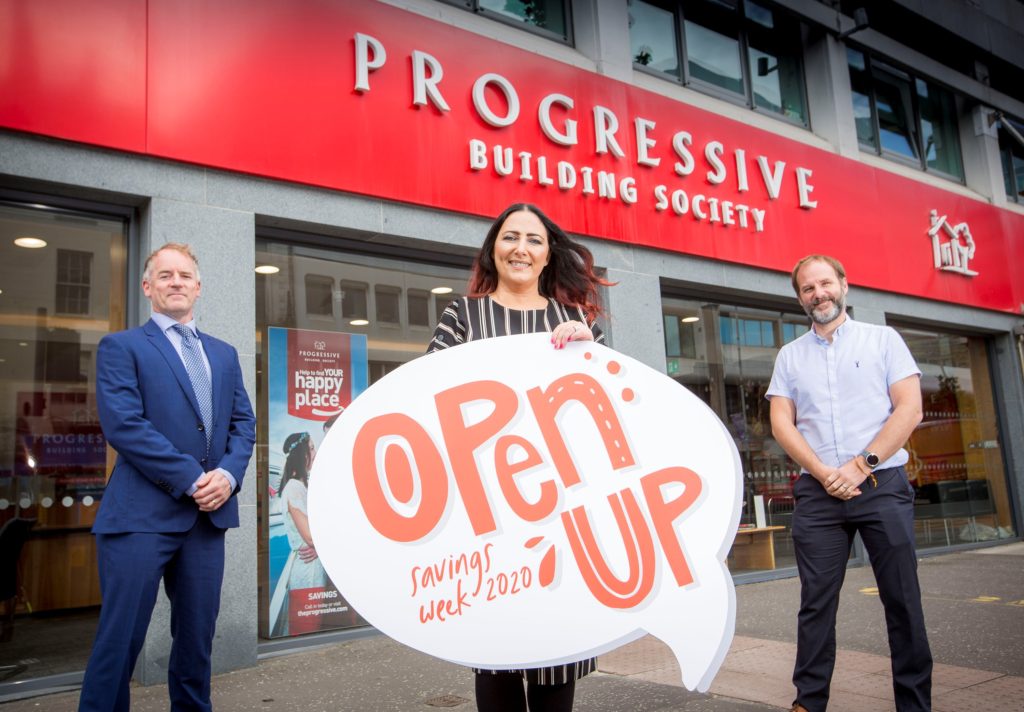 AMH's varied services have also been supported by our range of annual fundraising events which not only helps keep the spotlight on mental health, but also gets the community involved. Unfortunately, the pandemic made it impossible to host our popular annual Granite Challenge cycling sportif, however, when we challenged our loyal band of cyclists to do it themselves, they didn't disappoint – two wheeled bikers of all ages got involved, cycling in their own locale. Indeed, throughout the year, despite the restrictions, supporters' enthusiasm wasn't dampened and came out in the droves to fundraise for us.
To help mark World Mental Health Day, AMH produced four videos featuring David Babington in conversation with mental health representatives from the local political parties including Cara Hunter MLA (SDLP), Robbie Butler MLA (UUP), Paula Bradshaw MLA (All) and Órlaithí Flynn MLA (SF) discussing the need for better mental health services.
As we look forward to 2021, Christmas is one last event – a hurdle for many – and to mark the festive period in a year with a difference, our Elfie Day campaign was a rousing success, with the community continuing to fundraise for the charity. We compiled a very special Elfie advent calendar – spreading nothing but joy in a year many will be happy to put behind us. We brought you acts of kindness, tips on looking after your mental health, uplifting and motivational stories and quotes, favourite age-old Christmas traditions and much more. Here's to a happier 2021 for everyone!