And The Winner Is …..
 …….. Managing The Challenge, winner of the Innovations in Parkinson's Disease Award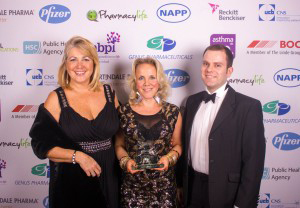 The Northern Ireland Healthcare Awards  took place last week at the Europa Hotel in Belfast. As always, the glittering gala gave healthcare professionals here the opportunity to highlight their own work and to be applauded by their peers for their achievements.
"Managing the Challenge" is a licensed self management course, funded by the Western Health and Social Services Trust, managed and delivered by Action Mental Health (AMH) and supported by the Long Term Conditions Alliance Northern Ireland (LTCANI).
Martina Blake, the Self Management Co-ordinator accepted the award for Innovations in Parkinson's Disease.  On presenting the award the judges said,
"The applications to this category were of an excellent calibre and all demonstrated positive impact for patients with Parkinson's disease. The winner was selected as it is a new approach to multi-disciplinary care for patients with chronic disease including Parkinson's disease. Martina demonstrated a patient centred approach and encourages empowerment of the patient in living with, and managing, their disease. Patient feedback was excellent and one of the course trainers is a patient with PD who became a trainer after her very positive experience with the programme. The PD nurses in the Western Trust are now planning to become trainers which will further benefit the patients in the Western Trust. Our hope in awarding this project is that the benefits of this service will be recognised province wide and as a result we will see other Trusts embrace this forward thinking method and enable equality of care for all patients with PD."
Among the attendees were members of the Health Committee, the Chief Medical Officer, Dr Michael McBride, the Chief Pharmaceutical Officer, Dr Norman Morrow and the Minister for Health, Edwin Poots, who presented Dr Morrow with a Lifetime Achievement Award.
Addressing those gathered, Mr Poots said:
 'You should be proud of the excellent service you provide for the people of Northern Ireland, whether or not you have received an award. I hope that you will all have been inspired to continue your good work. These awards recognise and celebrate the high standard of healthcare carried out in the province and also to encourage innovation and the translation of evidence into practice to improve the quality and safety of patient care.'