Antrim Healthy Activity Week
New Horizons Antrim hosted a range of events during their Healthy Activity Week –
Monday 14th April: Antrim Forum Activities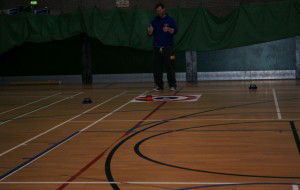 In the morning we were introduced to sports we had never played before; Boccia and New Age Bowling.  Some of us had a natural ability and others began to wonder if we had a straight eye in our heads at all.  The fact that these could be played from a sitting position as well as standing meant that everyone would be able to play.  We played other target games inlcuding skittles and a target board and the competitive spirit began to rear its head during the morning.
Following lunch we started the real team games: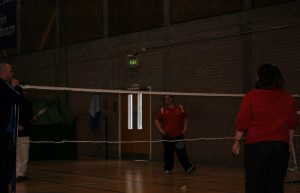 Badminton – even the most uncompetitive amongst us started to get into the spirit of things. Uni-hoc – Wow, if we were competitive in Badminton, you should have seen us during these matches, there were bodies skidding across the floor in an attempt to get the ball, we really took no prisoners.  Our rosy glow turned into serious sweat.
Rounders – brought our afternoon to a close, all remaining reservations were removed as the yells of encouragement echoed around the gym.
We have no idea what the eventual scores were but we all won at some stage during the day and the common consensus was that we had a brilliant day.
The Coaches from Active Communities were great fun, they joined in the activities and made sure we had a full and enjoyable day.
Tuesday 15th April: Away Day to Sentry Hill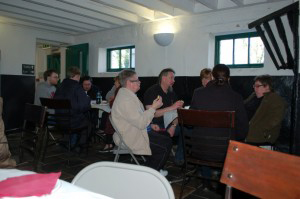 Off we set on the mini bus around 10.20 this morning, with a bus full of excited clients.  We reached our destination fairly quickly just before 11 am.  We were greeted by some lovely hand crafted tray bakes and tea/coffee, served up by our very welcoming hosts for the trip.
We then assembled in the conference room to watch a short film around the history of Sentry Hill.  Everyone watched carefully and seemed to take a keen interest in the story.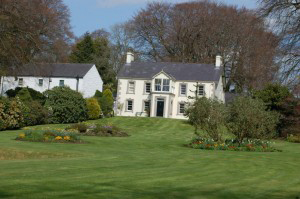 Next we were divided into 2 groups for the tour of the house.  Our very knowledgeable tour guide, Mervyn, provided a vast amount of historical information about the McKinney family and allowed us to take a look into each of the rooms of the house.
We then walked around the gardens and took time to have lunch and discuss the surroundings.
To finish off our away day, we went to Hazelbank Park in Newtownabbey.  It was a glorious day and we bought 99's from the ice cream van, lovely! All in all everyone thoroughly enjoyed the day and coupled with the weather, made for an extremely successful trip!
Wednesday 16th April: Centre Based Activities – Relaxation and Games
Today's activities started gently with an introduction to Tai Chi and the feedback was very positive and requests for future classes were made, AMH New Horizons Antrim may have a few converts to the art of Tai Chi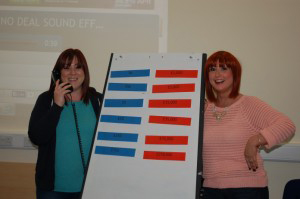 The afternoon kicked off with Liz playing the part of Noel Edmonds in Deal or No Deal where our contestants battled it out for an Easter Egg, a bit of a step down from the £500,000 but procurement procedures would have been a bit awkward for that.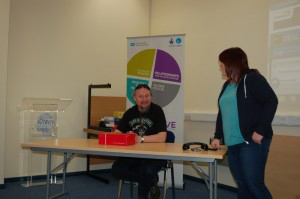 Three rounds later two star prizes and one booby prize had been won by our excellent contestants carried along by enthusiastic audience participation.  The banker made his regular calls but our contestants were too cool for him.
A Treasure Hunt followed, with our intrepid explorers following cunning clues and compass bearings in search of their prizes.  With serious concentration and an element of cheating, everyone earned their reward.
Thursday 17th April: Centre Based Activities – Dance and BBQ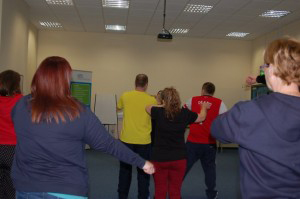 Today we started off with Street Dance.  Everyone was nervous and unsure about taking part but we were eased into the moves gently and before we knew it we were body popping and busting moves that Diversity would have been proud of.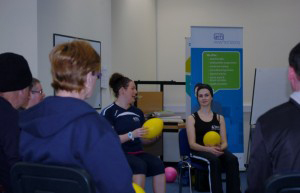 We wound up the morning with what we thought would have been gentle armchair aerobics but turned out to be as vigorous as the real thing.  Everyone had massive smiles on their faces and the feedback was very positive.  The general consensus is that 'We want more!'
Active Communities were a great asset to our Healthy Activity Week and we will definitely keep them in our Contacts List.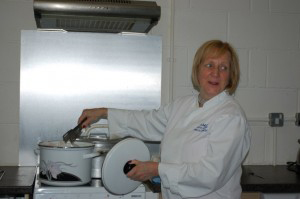 The rain behaved itself long enough during the afternoon to allow us to have the Healthy BBQ.  The culinary delights consisted of homemade burgers, vegetarian kebabs, baked potatoes, salads, corn on the cob and a variety of couscous dishes.  The smells attracted the other tenants from the building and they joined in the celebration.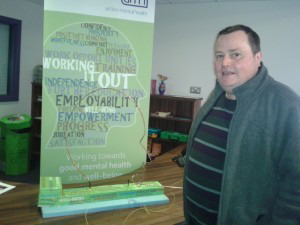 We must remember to mention our AMH Buzz Off game (circuitry courtesy of Slemish College).  We kept this at Reception for all visitors to test their dexterity and nerve.
Overall we have had a very successful week and we are all ready for a well-earned break over Easter.  We have certainly burned off enough calories to be able to eat whatever goodies the Easter Bunny brings us.