Audrey Allen wins at CO3 Leadership Awards 2019!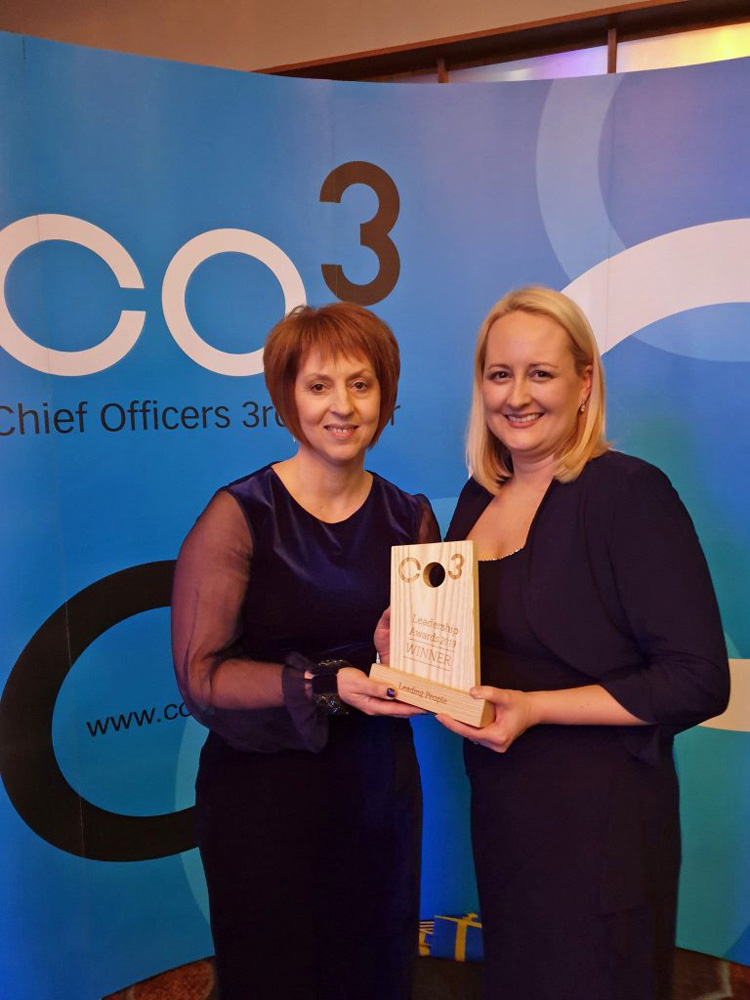 It is very fitting on International Women's Day, that we can announce our Head of Operations – Audrey Allen has won "The Leading People Award" at last nights CO3 Leadership Awards.
Audrey has been Head of Operations at Action Mental Health since 2012 and has responsibility for
over 160 staff , including 16 managers, 60 tutors/skills coaches, employment officers and specialists,
drivers, administrative staff and a quality assurance team, plus a loyal band of volunteers supporting
operational delivery. Her span of responsibilities and staff complement has nearly doubled since her
role was first created six years ago. As a member of the Senior Management Team, she attends all
Board and most Committee meetings.
Joining AMH as a trainee manager in 1991, Audrey progressed to area manager, a role she filled for
11 years. Alongside developing her own skillset, she has also encouraged the long-term
development of AMH employees, resulting in great staff retention, while consistently attracting
people from within the Third Sector and beyond.
The comprehensive expansion of AMH services is testament to her dedication to invest in staff,
clients and volunteers who support the delivery of new client-focused services.  Audrey's approach
illustrates her commitment to improving the lives of those with mental health issues and to develop
resilience across communities in Northern Ireland.Audrey champions the training of staff across AMH and operational staff in particular, she recognises that engaged leaders who are well supported are better able to deliver services more effectively. She has championed a range of interventions such as a recently introduced Leadership and Development Framework and a new appraisals process linked to training and development. She has been pivotal with her involvement in the AMH Quality Improvement Team and the Staff Information and Consultation Committee which considers staff development issues and responds to the biennial Staff Survey. The outworking of these has been a range of supports to develop staff and managers including coaching and/or mentoring, placements and career breaks which has contributed to a culture of lifelong learning in staff and clients alike.
We are delighted that Audrey's hard work and dedication has been recognised – Well done Audrey!