Belfast Met students put their minds into fundraising for AMH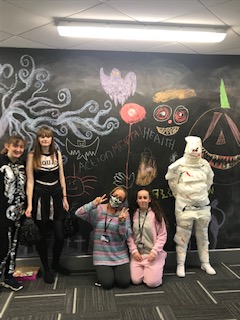 Students on Belfast Met's Childcare Level 2, Playwork CACHE and the Foundation Degree courses have been getting an insight into mental health and well-being through Action Mental Health's Mindset programme.
AMH's Mindset programme is a mental and emotional health and well-being awareness programme for young people aged 14-17 years and adults funded by the Public Health Agency. Its programmes are delivered to youth and community settings by AMH MensSana Project Workers.
The students were so impressed with the programme they decided to raise funds for Action Mental Health by hosting a Halloween fancy dress party – raising an impressive £556.56. Tutor Sakina Brennan, pictured with some of the spooky students, paid tribute to MensSana project worker Hannah for organising the programmes and supporting their fundraising. They also produced a great video, encapsulating their Mindset experience which you can view below: