Belfast Trust Chairman's Awards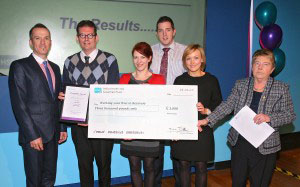 "Working your Way to Recovery" was named runner-up in the Partnership Category at the recent Belfast Trust Chairman's Awards. The entry focussed on the employment scheme Individual Placement & Support (IPS) currently based in North Belfast's Mental Health Team in partnership with Action Mental Health and was submitted jointly by Occupational Therapy staff and AMH.
The Belfast Trust Chairman's Awards celebrate innovation and service development by recognising ground-breaking health and social care projects that are taking place in the Trust.
The five winning projects were selected for "their ability to bring real benefits to patients and clients who use the services."
Submissions from staff were invited under five categories which reflect the Trust's five corporate objectives: safety and quality, modernisation, partnerships, people (staff), and resources.