Building Resilience in the Workplace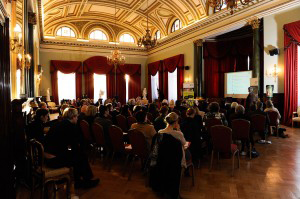 This year Action Mental Health held their Tughan Employment Conference – Building Resilience in the Workplace – at The Belfast Harbour Commissioner's Office on 21st November 2012.
Mental health is the most important aspect to a person's physical and emotional wellbeing. Without good mental health and the tools and skills to maintain it, the pressures of everyday life will take their toll on even the strongest person.
AMH's Chief Executive David Babington explained,
"Stress and depression are at the highest levels they have ever been, and this is causing huge problems both to individual employees and the organisations they work for. Last year alone, mental health cost the Northern Ireland Economy £790 million. Mental health problems cost the NHS £3 billion in total, which was more than any other illness. Mental health problems are also one of the largest contributing factors to long term absenteeism and long term presenteeism. Many individuals and organisations are facing uncertainty, job cuts and a period of great change, and against this background, keeping people engaged and performing well, can seem like an uphill battle."
This year the key note speaker was Professor Derek Mowbray.  Derek is a Chartered Psychologist and Chartered Scientist, with a doctorate in the psychology of leadership. He specialises in the primary prevention of psychological distress at work, with a focus on promoting wellbeing and performance. Speaking ahead of the conference Professor Mowbray said,
"Resilience is the ability to cope with extreme stress-provoking events without experiencing any personal stress signs or symptoms. Resilience is not fixed in individuals. While we have a natural predisposition to draw on different areas of our personality for resilience, it is also something that can be developed. In turn, the links between resilience, morale and engagement mean that developing resilience gives us a way of realising the individual and organisational benefits that high levels of morale can achieve. Corporate resilience is essential for businesses and services to survive and grow. To strengthen corporate resilience requires strengthening the resilience of the workforce, together with ensuring the cultural environment for the workforce clearly links the wellbeing of individuals to their performance and the performance of the organisation as a whole".
Also joining us from London was the CIPD's Jonny Gifford. Johnny joined the CIPD in London as Research Adviser in 2012. His research covers a number of aspects of employment relations, people management and organisational development.
Our Conference Chair was BBC's Mark Sidebottom and Special Guest Speaker was Dr Stephen Farry MLA, Minister for Employment and Learning.
The event finished with an insightful panel discussion and the audience were also treated to a session of Laughter Yoga!
You can view Dr Stephen Farry's speech on our YouTube channel: