Celebrating Client Success
There was a celebratory mood in Portadown Town Hall on 31 January as AMH New Horizons Craigavon & Banbridge recognised the achievements of their clients.
Lord Mayor Cllr Garath Keating was in attendance to present a range of certificates to mark the many accomplishments in areas including employability, IT, photography, horticulture, wellbeing and business and administration.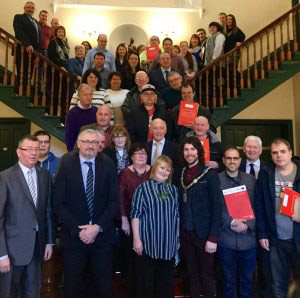 Speaking at the event Colin Loughran, AMH Service Manager said, "I am delighted to see the achievements of all the learners and applaud everyone on their hard work and recovery journey. It's a pleasure to work with, and for, people so determined to make positive change in their lives no matter how small that role may be.
"Our staff team should be proud of their achievements in designing and delivering the broad range of opportunities for people to benefit from.
"The achievements celebrated today are the result of the effective partnership between AMH, the Northern Ireland European Social Fund Programme 2014-2020 and the Department for the Economy, and the Southern Health & Social Care Trust, who are thanked for their continued support of our work."
During the event Renatas Dirse shared his thoughts on his journey so far. He said, "I attended a mix of classes such as IT, gardening and Tai Chi. I enjoyed the routine of going to the classes and they really helped me a lot. I have more trust in myself as I have actually achieved something and have more confidence to apply for jobs."
AMH New Horizons offer a range of recognised qualifications and provide training, personal development programmes and social and recreational activities. AMH New Horizons offers guidance and support, helping people to overcome the effects of mental ill health and in many cases return to work.
Find out more about AMH New Horizons.