Cooking up a storm in Antrim with AMH!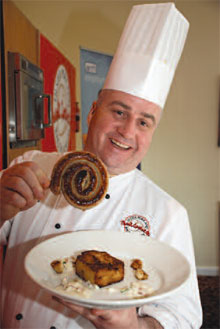 Local top chef and restaurateur, Sean Owens, wowed Catering Clients and Staff from AMH New Horizons with his culinary skills at an event in Antrim, also attended by Mayor of Antrim, Adrian Watson. Seven of the New Horizons units were represented; Antrim, Belfast, Downpatrick, Fermanagh, Foyle, Newry and Newtownards.
The Clients who attended the event are studying for NVQs in Catering and Sean gave them a "taste" of where their training could take them. Sean is Chef and Patron of Gardiners Restaurant, Magherafelt. He travelled and trained around the world, including work as a chef's apprentice in Hotel Montana in Zurich, Switzerland; in F.G. Brittinghams Irish Pub and Seafood Restaurant Lafayette Hill, Pennsylvania and at the International Sporting Club, in London, England as Senior Sous Chef. He served as Head Chef at the Ballygally Castle, and later as Sous Chef at the Europa Hotel Belfast. He served as Chairman of the Northern Ireland Association of Chefs and Cooks and was one of the first chefs to be inaugurated to the Northern Ireland Culinary Academy.
Marie O'Hara from AMH said, "Sean has been a great inspiration today for our clients and staff by sharing his skills and passion for his work. We'd like to thank him for joining us and giving a very impressive demonstration. I would also like to congratulate our staff and clients for all their hard work and hope that today has encouraged them to continue their training and perhaps pursue a career in the catering industry". The Event was kindly sponsored by the Ulster Pork & Bacon Forum.