David Ford MLA Visits AMH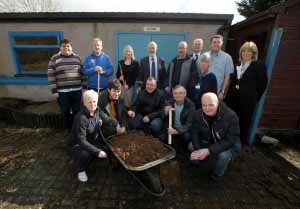 Minister for Justice, David Ford MLA, has visited Action Mental Health's site in Antrim, hearing first hand from clients and staff about the excellent work carried on by the charity. Mr Ford, who was visiting in his capacity as South Antrim MLA stayed for over an hour, seeing the new gardens which the clients are working hard to develop, as well as talking with clients about their lives, the challenges they face and their fears ahead of the upcoming Welfare Reform changes to benefits.
Speaking after the visit, AMH's Chief Executive David Babington said that he was hugely impressed with the Ministers' clear empathy for the clients, and interest in the work being done by the organisation.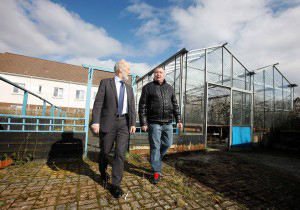 "Mr Ford was clearly very interested to hear first hand about the work Action Mental Health does, as well as about the challenges which our clients face on a daily basis. He asked a lot of questions about the impact of the changes being brought about by the forthcoming Welfare reforms and about the daily lives of the people who come to Action Mental Health. This visit is part of a process of outreach by our charity, and we plan to have the remaining MLAs for the South Antrim constituency come to our Steeple Road premises very soon."