Diane Dodds, MEP, visits AMH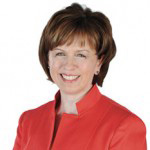 Diane Dodds MEP recently visited the AMH New Horizons unit in Jubilee Road, Newtownards to see the range of vocational training, personal development and employment support programmes which are delivered to over 200 people in the North Down & Ards area who are recovering from mental ill health.
Selwyn Johnston, Service Manager was delighted to welcome Mrs Dodds to the Ards unit and introduced her to the staff and clients who were engaged in a range of accredited training such as IT, Retail, Catering, Creative Crafts and Employment Preparation. 
Mrs Dodds joined clients who were enjoying a stress awareness and relaxation session and shared helpful experiences of how she has developed strategies which have helped her cope in stressful situations.  Mrs Dodds answered clients' questions on a range of issues including the changes in disability benefit and provided an overview of her role as MEP within the European Parliament. 
Mrs Dodds said: "I was delighted to be invited to visit, and see first hand, the excellent work that is being done by the New Horizon's unit. I want to especially thank those who shared their personal experiences of mental health problems. Mental health issues affect people throughout all walks of life, especially in today's stressful climate. Thanks to the work of New Horizon's, many recovering from mental illness are now looking forward to a new beginning and a brighter future."
David Babington, AMH Chief Executive thanked Mrs Dodds for visiting the service and acknowledged the significant funding which the organisation receives through the Northern Ireland European Social Fund Programme which enables the delivery of training programmes, support work based training and employment placements with a view to helping more than 1,700 people each year.   He appreciated Mrs Dodds commitment to help ensure continued European funding for vocational training organisations such as Action Mental Health.    
Mrs Dodds: "I am extremely happy to continue to support the ongoing work by Action Mental Health and offer any assistance needed to secure future funding.  It is extremely important that we ensure the continued success of the New Horizon's unit so many more people in Northern Ireland can benefit from the support, guidance and training currently available."
To commemorate Mrs Dodds' visit to AMH, Brian Cairns, who is a client at New Horizons, presented Mrs Dodds with a handcrafted Tiffany glass panel.