Double Celebration at AMH Promote Bangor – Assistant Skills Coach Paul Laffey Marks 25 Years During Learning Disability Week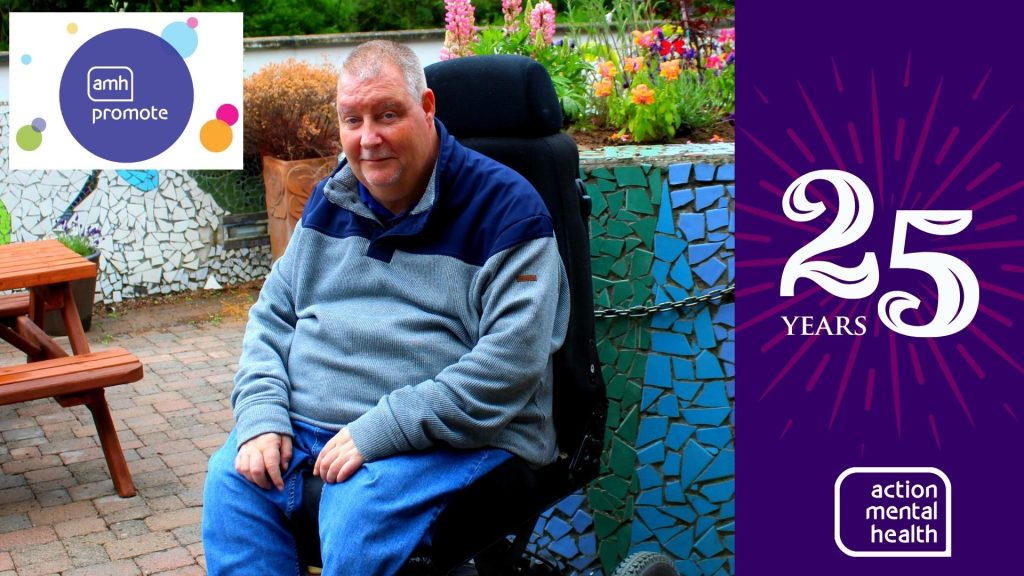 AMH Promote Bangor provides opportunities for adults with learning disabilities, by enabling social activity and offering up a platform to develop new skills in a supportive and engaging environment. Not only is the charity celebrating Learning Disability Week (20-26 June) but its appreciation for the dedicated service of Assistant Skills Coach, Paul Laffey.
Based at Enterprise Road, Conlig, Action Mental Health Promote is a centre that "welcomes people with open arms", according to Paul, a man happy in his job, an evolving role with the mental health charity spanning 25 years this month.
Since 1995, Paul has embraced various positions, teaching woodwork, then IT and today as one of Promote's highly trained Assistant Skills Coaches, he finds his days spent delivering a broad spectrum of non-accredited and accredited courses.
As a result of a motorcycle accident 40 years ago, Paul broke his neck and is a quadriplegic. Paul explains, "I've had to learn to be patient and adapt to all the different challenges we have to overcome when you have a disability."
In line with this year's Learning Disability Week themes of reconnecting with friends and communities and addressing isolation issues, many people living with a learning disability still face after the end of COVID restrictions, AMH Promote is there to make a positive difference to mental health.
"I think we all make a difference to each and every one of our clients in some way, as each day they learn new skills, which will help them later on in life. We have social outings and lots of different activities, which can only be good for them. Adding, "AMH Promote speaks for itself and continues to strengthen year on year. If you're committed to working with people with additional needs, you could not start in a better place. It's an ideal way to start your career.
When I applied for the job I had no experience of working with adults with learning disabilities. However, within days I settled in so well, I never found it a challenge. Maybe it's because I have a disability myself." Adding, "The clients accepted me with open arms, they were never judgmental of my ability to do my job, just so friendly and helpful to my needs. I honestly couldn't ask for a better bunch of guys to work with, they are friends for life."
For further information please visit https://www.amh.org.uk/services/promote/