Eating Disorders & Stress – Coping Techniques
Stress can affect us all everyday. We get stressed from the norms of everyday life – relationships, school, work and in more recent times, the pandemic, isolation, and uncertainty have also been added to that list. For individuals living with an eating disorder, such environmental and social factors may heighten stress levels and cause destructive mental and behavioral patterns. This month is Stress Awareness Month, and this week we have joined up with our partners – Covid Wellbeing NI Hub to share some advice from our Eating Disorder service – AMH everyBODY on coping with stress if you or a loved one is living with an eating disorder.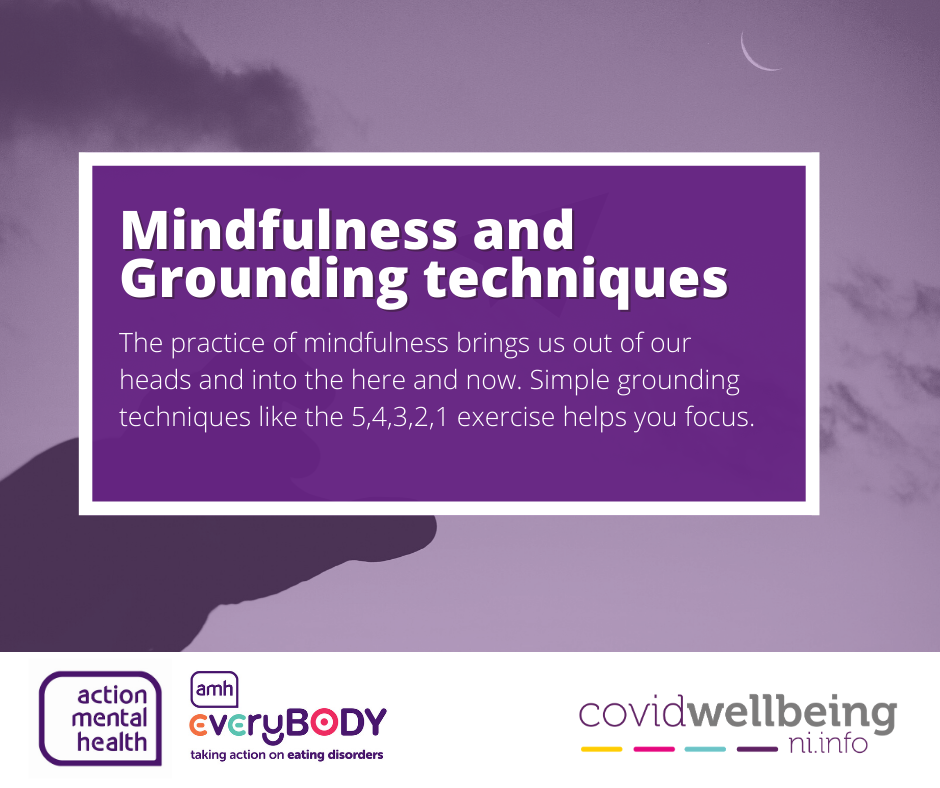 Mindfulness and Grounding techniques – During lockdown we have all had to cope with more time on our own and for a person with an eating disorder, more time in their head with their thoughts can be a source of stress if these thoughts are negative and critical. One way to deal with this is by practicing mindfulness. Mindfulness takes us out of our head and into the here and now, not stressing about things that have happened, or worrying about things in the future. We focus on the things we know for sure in the moment we are in. A simple grounding technique that EVERYBODY can use anywhere to help practice this is 5,4,3,2,1. Take a deep breath and look for 5 things you can see, 4 you can hear, 3 you can feel, 2 you can smell, and 1 you can taste. This technique soothes your nervous system and brings you back into the now. One of our service users who regularly uses this technique says "I love this as a coping tool because I can literally use it anywhere and nobody even needs to know I'm doing it, it's quick, easy and stops me from becoming overwhelmed or caught up in a train of negative thinking."
We made this video for Children's Mental Health Week in February, about Grounding Techniques:-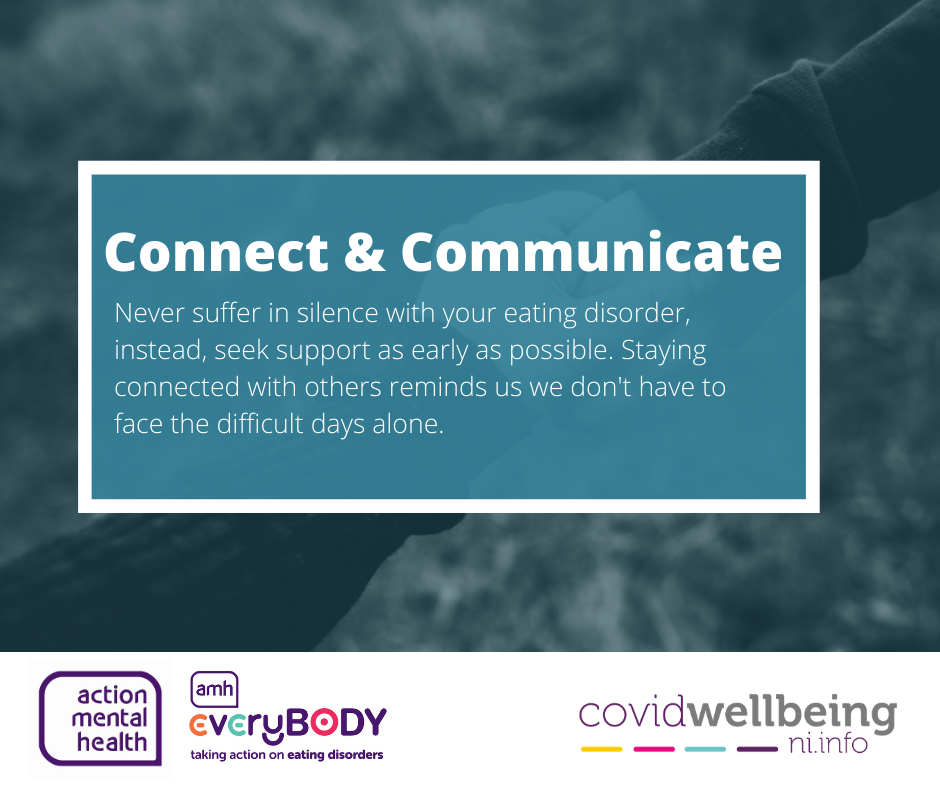 Connect and Communicate – Eating disorders thrive in silence and isolation. When we feel stress in relation to our eating disorder, an automatic response is to want to withdraw, but this only allows eating disorder thoughts and to become louder and more amplified. When we take the brave and valuable step to ask for support we have an ally to fight any eating disorder difficulties together. Connection can give us an outside perspective to challenge negative thinking and unhelpful behaviours. Choosing to speak up and ask for support is a sign of strength. You deserve support at the earliest point. It is never too early, or too late to seek support. It can be helpful to agree, regular check-ins with your trusted supporters. Staying connected reminds us we don't have to face the difficult days alone.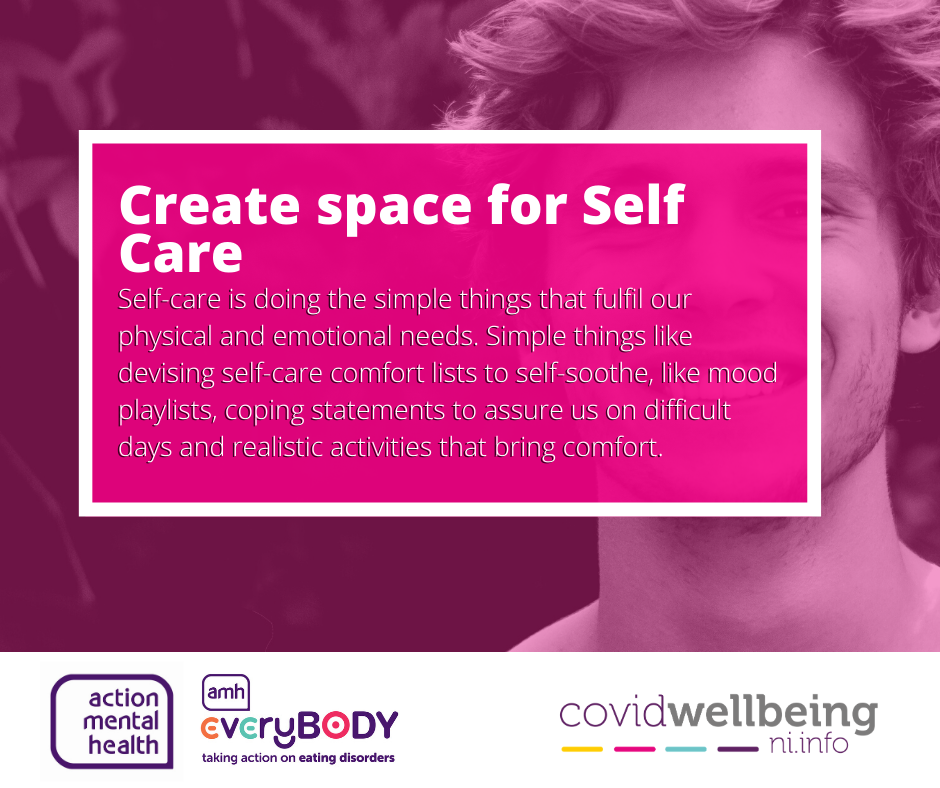 Create space for Self Care – Sometimes stress can be the result of negating our needs, perhaps from being on auto-pilot or taking on additional responsibilities. Creating time for self care is about prioritising time to meet your own needs. This could be a need for comfort, support, rest, learning, setting boundaries etc. Self care isn't all bubble baths and manicures, and it doesn't have to be complicated. Often the most effective self care is simple and accessible. It could be making time to check in with yourself throughout the day and ask "What am I feeling, what do I need, what can I do?". Another way we can practice self care is by creating a comfort list, a list of things we can go to, to self soothe – creating mood playlists, having a list of kind coping statements we can use on difficult days, a list of activities that help bring us comfort like realistic to do lists, or decluttering spaces. Self care is doing the simple things that look at our physical and emotional needs so that we can function well.
---
If you live in the Southern Health Trust Area you can contact the AMH everyBODY Team – T: 028 3839 2314 or E: [email protected]