Fermanagh Health Fair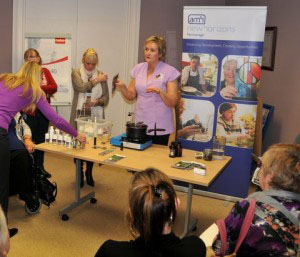 New Horizons Fermanagh hosted a Health Fair for the general public on Monday 8th October to mark World Mental Health Day. 18 organisations were represented, all of whom provided information on the range of support services which are available locally to people recovering from Mental Health issues. The Health Fair, which was well attended, held a particular interest for students from schools and colleges in Fermanagh who are interested in Health and Social Care.
An invitation had been extended to the families, friend and carers of all clients who had joined our service in the last year to join us on Tuesday afternoon. This provided an opportunity for them to get an overview of our service, meet our staff team and also to meet the Carers Development worker from the Western Health and Social Care Trust. In addition to seeing our service in action, families and friends were informed about other programmes which we provide such as the Hospital volunteering programme, and the NI Arts Council programme. This afternoon also provided us with an opportunity to review our Customer Service standards, and our client complaints procedures.
Dr Diana Cody, consultant psychiatrist and Dr Gavin Weathers, Community Mental Health Team (CMHT) delivered a Recovery Workshop on Wednesday afternoon. This informative session was attended by clients within the service, and some New Horizons and CMHT staff.
Staff and Clients celebrated World Mental Health Day, the 20th anniversary of the opening of the Fermanagh Service, and their recent success in their Customer Service Excellence award with a lunch in the Mandarin Palace on Friday afternoon.
The Volunteering presentation ceremony took place on Thursday 18th October. Recognition was given to the many clients who have been involved in volunteering this year, especially those providing support in the new Acute Hospital for the South West. Local entrepreneur, Pauline Corrigan, was the guest speaker at the event – Pauline has a long history of volunteering and community work, and a personal understanding of Mental health issues. Pauline is now running her own successful local business, Beenificial, a natural skincare company specialisng in a range of handmade products which do not contain parabens, aluminum or lanolin.