Five ways to Well-Being
World Mental Health Day 2010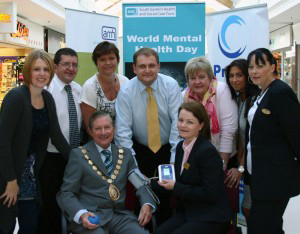 Local mental health organisations from the North Down area undertook a 'Stress Free Day' event at Bloomfield Shopping Centre to raise awareness for World Mental Health Day on the 10th October.
The purpose of this year's event was to promote a simple guide to 'Five ways to Well-Being'. Several local mental health organisations were represented at the event, including Praxis Care, Action Mental Health, Samaritans, Mindwise, NIAMH, Growing Connections, Age North Down & Ards, Holywood Family Counselling in addition to staff from the South Eastern Health and Social Care Trust's Community Mental Health Team, Health Promotion Department and Patient Client Council. Staff from the Job Centre Pathways Team were also on hand to provide advice to people with a disability who wished to return to employment.
Pharmacists from Boots Chemist kindly provided their time and expertise to check people's blood pressure and provide advice on the benefits of maintaining a healthy lifestyle.
The event was a great success with many people availing of the opportunity to both relax and take time out from their shopping.