Getting Back To Work….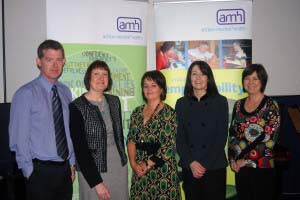 Clients from AMH New Horizons in Downpatrick attended an event in the St. Patrick's Centre to learn more about moving forward into employment or further training.
AMH invited representatives from Ballynahinch and Downpatrick Job Centres, and Hugh J O'Boyle Training, to give a presentation on the options available.
The audience heard about the Department for Employment and Learning programmes such as Steps to Work, Access to Work, the Condition Management Programme, Permitted Work for those on Incapcity Benefit and Employment Support Allowance, Return to Work Credit, Job Centre On-line facility, Travel to Interview Scheme, Job Brokerage and much more!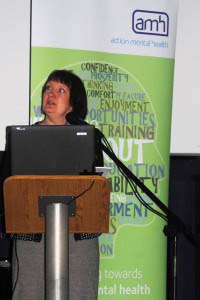 All the information can be found on the Department's website www.delni.gov.uk in the Disability Employment Service Section:
http://www.delni.gov.uk/index/finding-employment-finding-staff/fe-fs-help-to-find-employment/das.htm or talk to one of our Employment Officers who can steer you in the right direction.
Michelle Grant from Hugh J O'Boyle Training then talked about further training opportunities. More information can be found on their website, www.oboyletraining.com