Health in Mind Project Launched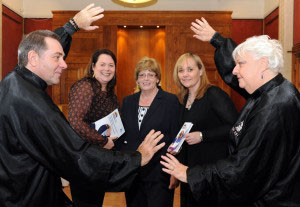 The Health in Mind Project was launched in the Long Gallery at the Northern Ireland Assembly, on Wednesday 12th October, with joint support of the Northern Ireland Assembly Committees for Culture Arts and Leisure, and  Health, Social Services and Public Safety.
Health in Mind is the result of a partnership between Libraries NI and four leading mental health charities: Action Mental Health, Aware Defeat Depression, Cause and MindWise and will provide services to people with low level mental health issues, their families, carers and the general public, to encourage awareness and an increase in self-help strategies.
The Health in Mind project is funded by the Big Lottery Fund (through the Live and Learn Programme) and seeks to raise awareness and understanding of good mental health and to promote opportunities to improve wellbeing through information, learning and reading.
Frances Dowds, Health in Mind Project Manager explains:
"Mental illness can affect anyone. At least one in five of the adult population in Northern Ireland suffers from a common mental health problem in any year. The programmes available through Health in Mind have a key focus on the provision of reading materials that promote early intervention and self-help strategies on a wide range of issues, from managing stress, anxiety and depression, to relaxation, fitness, nutrition and wellbeing.

 Good mental health and wellbeing materials will be promoted in libraries through activities, such as reading groups, a range of 'top ten' themed book lists, a dedicated Health in Mind website and interactive web based forum as well as a One Book Campaign. They will all be invaluable mechanisms in helping to challenge the stigma associated with mental illness while simultaneously raising public awareness."
The Health In Mind project will be delivered in libraries and community venues across Northern Ireland and aims to make a particular impact in disadvantaged areas. It will promote the use of library resources and provide access to reliable information in the welcoming setting of a local library.
As Charles Eliot said,
"Books are the quietest and most constant of friends; they are the most accessible and wisest of counsellors, and the most patient of teachers."
Irene Knox, Libraries NI Chief Executive states:
"Libraries NI is delighted to be part of this exciting Health in Mind programme, which is tasked with reducing the associated costs of poor mental health, along with increasing the use of a free and accessible public service that can offer help and information to members of the public, on how to improve health and wellbeing.

 "Libraries offer a free public service and are accessible venues for everyone across Northern Ireland and I would advise members of the public to check at their local library and on the Libraries NI website, for events, courses and learning opportunities, which will contribute to improving mental health and wellbeing."
Under the banner of the Health In Mind Project,  Action Mental Health delivers I.T. training and extends opportunities for participants to develop their  ICT, personal development and essential skills and to achieve qualifications. AMH facilitates the production, dissemination and publication of case studies and personal testimonies of users of mental health services in order to tackle the stigma of mental illness.
for more photos of the launch visit our facebook page :
https://www.facebook.com/media/set/?set=a.288965937789528.77662.189840137702109&type=1&l=166b5e21ae