Let's go to the Movies!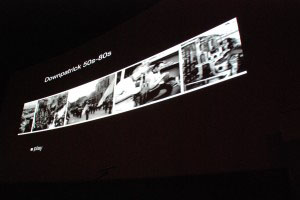 The Eclipse Cinema in Downpatrick will be showing a double bill of locally made films on Monday 6th June 2011 at 7.30pm. 
One of the movies "Downpatrick, Life in the 1950s – 1980s" was made entirely by clients of AMH New Horizons Downpatrick.  The movie features interviews with local civic leaders such as Maurice Hayes, and well known local characters. The film has been supported and funded by the PEACE III Programme managed by the Special EU Programmes Body and delivered by the North Down, Ards and Down District Council cluster.
The second movie on the bill is "It's the Talk of the Town" which is based on the book "Down Town: 120 years  of Downpatrick's Shops in Photographs", which takes a look back in time at the colourful history of Downpatrick's shops and streets over the past 120 years.  The book and film are also part of the Peace III community history initiative organised by Down County Museum and the Somme Heritage Centre.
Entrance is free and everyone is welcome.