Lough Erne Veiled Jewels Art Exhibition
Enniskillen Library was the backdrop for a most unusual, and impressive art exhibition showcasing the work of clients in AMH New Horizons Fermanagh. Visitors to the exhibition saw beautiful handcrafted glass and bronzework, a breathtaking display of photographs capturing the local landscape, and also had a chance to read from a selection of poetry inspired by the Fermanagh landscape. The exhibition was the culmination of a project taken forward by New Horizons Fermanagh, and funded by the Big Lottery through the Arts Council NI.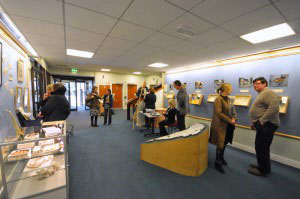 The work exhibited represented a selection of interpretations of Fermanagh Lakelands.  Particular focus around the theme of bronze and glass and their processes of production had been used as a metaphorical theme.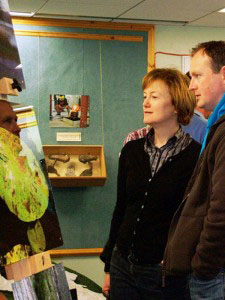 Three groups under the guidance of local artists Niall Walsh, Bernadette Layden and Pat Lunny have worked through the mediums of sculpture, creative writing and photography, to produce personal evocations of the Fermanagh Lakelands.
The three art forms have endeavoured to capture the atmosphere provoked by the surrounding environment which are VEILED JEWELS in the Fermanagh landscape.
The bronze age though now part of the distant past, is still tangible in the lakes and what lies beneath.  Its presence and the nebulous nature of water are inextricable linked to the sprit of Fermanagh and its people.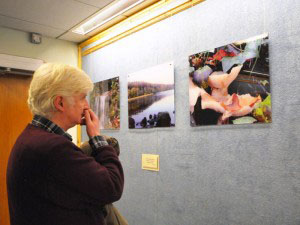 Nial Walsh has been commissioned by the New Acute Hospital to produce and art work for the grounds opening later in 2012. www.niallwalsh.ie
Bernadette Layden is an Author of local History and story teller, 'A Dander Down the Street' [email protected]
Pat Lunny is a local photographer and member of photographic society and has a long history of working with AMH Clients. patlunnyimaging.com
Special thanks is extended to Geraldine O Reilly, Patient Environment Arts Advisor for the New Acute Hospital South West: Pauline Flanagan, Client Development Coordinator, AMH New Horizons; and Nigel Glover, Skills Coach, AMH New Horizons who developed and coordinated the entire project.
The exhibition finishes it's run in Enniskillen Library on 16th March, but will be returning in September. It has already been displayed at The European City of Culture "What's the Big Idea" Conference in Derry, and will be going on tour in venues all over Northern Ireland.
Just some of the many, many comments we have received from visitors:
" Beautiful work,the magic of making in action,thank you" CEO European city of culture,Derry 2013
"we are looking our ancestors in the eye" T Quinn
"Breathtaking,amazing and beautiful,True creativity.well done to all the artists" Denise Devlin
"V High standard of art and writing.I am very impressed- stopped me in my tracks" B Maguire