Mental Health and Employment
AMH Action Mental Health held their Annual Tughan Lecture to observe Mental Health Day at Malone House.  The Tughan Lecture was established in memory of a founder of AMH, Fredrick Charles Tughan, CBE, and is sponsored by the Tughan Trust.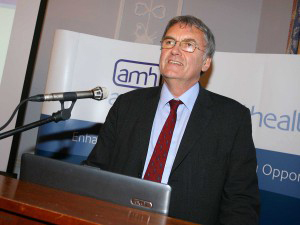 Our speaker this year was Professor Bob Grove.  Bob is Joint Chief Executive of the Centre for Mental Health in London.  He has written widely on disability and employment issues.  The title of the lecture was "Mental Health and Employment – putting evidence into policy and into practice."
1 in 6 of us will suffer some form of mental illness at some point in our lives, it can strike anybody at any time and it can be even more devastating when it forces us to take a lengthy absence from work.  Yet work is not only central to most people's lives, it has also been shown to have a positive effect on mental health.  Work provides us with an opportunity to put some routine and stability into our lives and to regain our sense of self-esteem.  Research has found that four out of ten unemployed people have mental health problems but many would like a job.
Bob began talking about the evidence of what works, "We know from international experience and research how to offer effective support to enable people with mental health problems to work.  Large numbers of people have and can be supported to secure and maintain competitive employment through Individual Placement and Support (IPS). IPS has seven key principles, each of which is needed for the service to work well.  They include focusing on paid employment of an individual's choice, not sheltered work or lengthy job preparation, and support that continues once the person gets a job and that is provided together with clinical care and welfare benefits advice." Bob then continued by referring to a number of trials which have taken place throughout the world.  It is clear that IPS is effective.  Bob appealed to those decision makers in the audience, "Supporting people with mental health problems into employment should be a top priority for health and social care providers and commissioners". Bob talked about the South West London & St George's Mental Health Trust – who have adopted the IPS approach and have produced positive results.  However there are still barriers which need to be overcome.  Employment is still not considered a priority for mental health services, or seen as a realistic goal for people who have experienced mental health problem.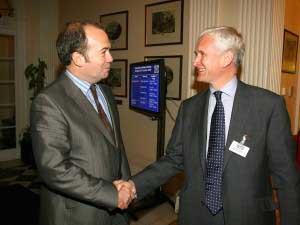 Bob left the audience with a lot to consider and think about, he ended the lecture by acknowledging the work of AMH. The opportunity to work is recognised by AMH as an integral part of recovery and of treatment for mental ill health.  AMH through our Employment Programmes, have been helping people along the road to recovery from mental ill health back into the workplace for many many years.  In the current economic climate this is proving particularly difficult, but we continue to form strong relationships with local employers who support our work and we continue to give our clients the skills and the self belief that they can work and they can compete in the job market.
For more information about Bob's work see www.centreformentalhealth.org.uk
A copy of Bob's slides are available here.
John McCallister MLA checks out the new AMH Website
World Mental Health Day is a global mental health education project of the World Federation for Mental Health and is commemorated in over 100 countries each year on 10 October.