Mental Health Training for MLA Staff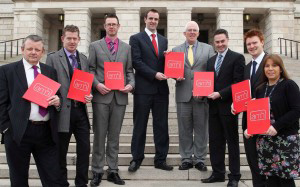 Action Mental Health, the Northern Ireland Assembly charity of the year, is rolling out a bespoke training course for MLA constituency staff across Northern Ireland.
The charities' training division AMH Works has been offering mental health awareness training courses to businesses and organisations across Northern Ireland for some time.
This bespoke course has been developed with input from MLA staff on what they feel are the issues most affecting constituents who are coming through their doors.
The training will explain the various issues around mental ill health and will help staff react to the growing incidences of constituents coming to their local MLA office for advice on how to help loved ones and family members, as well as how to signpost constituents to the correct organisations. Speaking prior to the first training session at Stormont, Gary Kane of AMH Works said that the training had been designed to offer practical help to MLA staff as they work to help their constituents across Northern Ireland;
"MLAs and their staff do an immense amount of crucial work with constituents on the ground. As Assembly charity of the year, we have developed a deeper understanding of the breadth of issues which staff deal with on a day-to-day basis and how the issue of mental health is often one which comes to their attention when they are assisting constituents in dealing with housing, financial and personal issues. We're delighted to be rolling out a bespoke course which will explain the prevalence of the four main mental illnesses affecting people in Northern Ireland today. Next, we will raise their awareness of their signs and symptoms and will also attempt to dispel a lot of the myths and misunderstandings surrounding mental health."
Each of the conditions is comprehensively explained with pertinent and relevant examples used in order to give these conditions some real world relevance. The course also incorporates videos, case studies and group work to ensure that staff are getting the most from the training course.
"Finally, and very importantly, we also include information on appropriate bodies to whom staff can safely signpost people and who is the best in their respective fields in helping people. We hope that our time as Assembly charity of the year will have had a positive impact on the daily lives of MLA staff and the people they work so hard to serve, and this training course is a practical example of the deepening understanding between Action Mental Health and the work of the Northern Ireland Assembly."
Also included in this course is an information pack including fact sheets on the mental illnesses referenced throughout the course, along with methods for reducing stress and supporting a colleague who may be showing signs of distress.
To find out more about accessing this training, contact Gary Kane from AHM Works at [email protected]