Minister visits AMH New Horizons in Newry.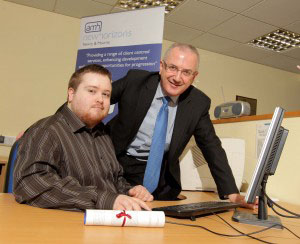 The Minister for Employment and Learning, Danny Kennedy visited AMH New Horizons in Newry today.
 AMH New Horizons works to improve the health and well-being of people with mental health needs, by providing personal development programmes, vocational training and employment opportunities.  AMH opened its doors in Newry 21 years ago and now has two locations in the area, Greenbank Industrial Estate and Canal Street.
 Clients can train for a variety of IT qualifications from introductory to advanced level.  During his visit the Minister met Stephen McConville.  Stephen is the first client in Newry to pass a module in the Advanced ECDL (European Computer Driving License)  course. The Minister offered his congratulations and presented Stephen with his certificate.