New Horizons Outreach Magherafelt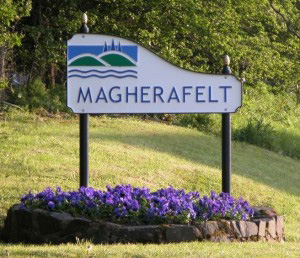 Since September 2013, Antrim New Horizons have successfully reached out to clients in the Mid-Ulster area in order to deliver both accredited and non-accredited training and personal development programmes. The outreach programme in Magherafelt commenced with the introduction of an OCN award in Assertiveness and Motivation which ran for a 12 week period.
In December 2013 and January 2014 Antrim New Horizons carried out a successful recruitment drive promoting the outreach programme to referral agents within the local area.
The current programmes delivered in Magherafelt are 12 week OCN Stress Awareness programme and a 12 week 'healthy cooking' programme, Culinary Delights.
The Culinary Delights cookery programme is designed to enhance and develop social skills as well the concept of teamwork and communication within our client group.  In addition to this the clients learn about various different countries throughout the world, including the main languages spoken, main historical facts and dishes of that particular country.
In addition to this, a health activity is delivered in Meadowbank Sports Arena, Magherafelt.  It will be delivered by an Active Communities Coach supported by an AMH staff member and will include a range of sport activities. It is envisaged that these sessions will improve client's physical health and general wellbeing and provide them with an understanding of the importance exercise. Clients will be encouraged to continue to participate in a healthy activity after completing the programme.
Other personal development programmes planned for the Magherafelt outreach programme include First Aid and arts and craft (basket weaving) providing clients with an opportunity to learn new skills and knowledge to build confidence and self-esteem.